Understanding your timetable
The University's year is broken down into three semesters - September to January, January to May and May to September. For further details of these and other important dates please refer to the Academic Calendar:

Our timetables are centrally published using CELCAT timetabling software. They adopt a grid-type layout: hourly time-slots run horizontally along the top of the page, while the days and dates run vertically down the left-hand side. Timetables are published one semester at a time.
To learn more about the specific elements that make up your timetable choose from the options below:
---
Events
An event is simply a timetabled class, whether it be a lecture, a tutorial, a seminar, a lab, etc. Each event in your timetable contains the following key pieces of information: event category, time and date, module title and reference number, tutor(s), room number and site, and notes.
In the sample image below (Fig.1) you can see a typical event, in this case a lecture, is taking place between 11:00 and 13:00 on 29 September 2008. The module is Financial Accounting, BS1111. The tutor is Susan Hamilton, and it is taking place in room 224, Aberdeen Business School.
Fig.1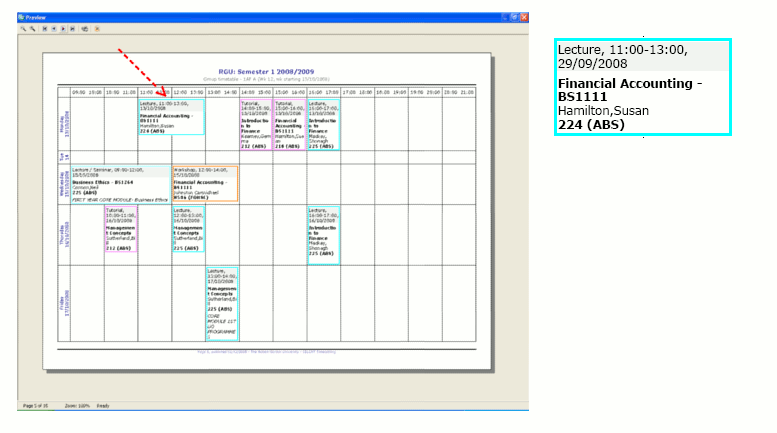 ---
Room numbers and buildings
Room numbers and buildings appear at the foot of each event (see Fig.2). They are written in bold type (as are the module names).
Buildings appear in brackets after the room number, they are displayed either as an acronym or an abbreviation:
ABS = Aberdeen Business School [Garthdee]
FOHSC = Faculty of Health and Social Care [Garthdee]
Grays = Gray's School of Art [Garthdee]
SAS = St Andrew Street [City Centre]
SCH = Schoolhill [City Centre]
Scotts = Scott Sutherland School of Architecture and Built Environment [Garthdee]
Fig.2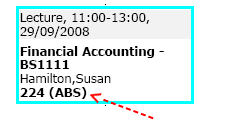 Room numbers follow specific conventions depending on the building in which they are located:
ABS: no prefix, the first number represents the level, e.g. 519 is on the fifth level.
FOHSC: 'H' prefix, first number represents the level, e.g. H210 is on the second level.
Grays: 'G' prefix, level represented by letter A, B, C etc. e.g. GA49 is on the first level.
SAS: no prefix, first letter represents the floor, e.g. C47 is on the second floor.
SCH: 'A', 'C', 'M' or 'P' prefix. A relates to the Admin Building, C relates to the Clarke Building while P and M are in the Technical Building.
Scotts: 'S' prefix, level represented by letter - A for lower ground floor, B for ground floor and C for first floor.
---
Week numbers
University weeks are numbered from the first week of term in the last week of September (week 1) to the penultimate week of September the following year (week 52).
Semester 1: weeks 01-18
Semester 2: weeks 19-35
Semester 3: weeks 36-52
The week number can be found in the subheading of the timetable, see Fig.3.
Fig.3