Bank Accounts
If you wish to open a UK bank account you will need to prove to the bank who you are and where you live. The bank will require certain documents as evidence of this.
The bank needs:
Your Full name + Date of Birth + Nationality
Your UK residential address
Your home address + country of residence
To verify the above you will need to take:
Your passport (original, not photocopy)
Evidence of student status
Your original course admission letter/ 'Unconditional' offer
Bank Letters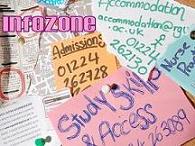 You can obtain a 'Bank' letter from one of the InfoZones that will detail who you are, your course of study and your UK and Home Address. This will help you with the process of setting up a bank account.
If you have a place in RGU accommodation a bank letter will be waiting for you on arrival. It will state on the letter which banks accept this general introduction. If it is not mentioned on the letter, you will need to go to InfoZone to request a letter to the branch you require.
Each UK bank will have different criteria that need to be met before you can open an account with them. Although the above information is standard, some banks may require extra information.
It is important to note that international students will need to keep their bank statements for student visa extension purposes.

Which bank should I choose?
You should go to different banks to find out what they can offer you as some high street banks offer deals to students. You should also ask friends and classmates what bank they bank with as this might give you an idea of which bank is the best for International Students.