Dean of Students
Christine Buchanan
Contact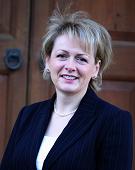 Tel: 01224 262117
Email: c.buchanan@rgu.ac.uk
Address:
Student Services Building
The Robert Gordon University
Garthdee Campus
Garthdee Road
Aberdeen
AB10 7QB
The Student Services Department offers a wide range of professional advice and support services and works to various professional and quality standards.
My enthusiastic staff work hard to ensure that our students have the opportunity to make a successful transition to University and through the time they have with us.
The Careers Service currently holds the national Matrix quality standard.
The Treehouse Early Care and Education Centre is subject to regular external inspection by the Care Commission and, as a provider of pre-school education, the Centre must also comply with standards set by Aberdeen City Council.
The Disability and Dyslexia Service is required to be validated annually by SAAS as a centre authorised to undertake formal assessment of students applying for Disabled Students' Allowance.
International Student Advisers are required to comply with the standards set by the Office of the Immigration Services Commissioner (OISC) when providing advice and guidance to students on visa and immigration services.
The Student Union is working towards achieving the national SUEI (Student Union Evaluation Initiative) quality standard. If successful, our Union will become the first Scottish post-1992 university to achieve this prestigious standard.
I am always available to meet with academic and support colleagues to discuss any issues of concern or areas where services can improve.