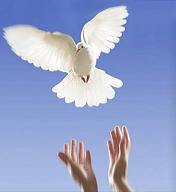 World Religions in Aberdeen



---
During the past 50 years, there have been many changes in Scotland's religious life. On the one hand, society has become increasingly secular and many people no longer participate regularly in formal religion. On the other hand, Scotland has become more multicultural, resulting in other world religions being practiced here. In Aberdeen there are nearly 120 different nationalities and a variety of faiths are represented in the area. As well as having good facilities for Christian people, the city now has well-established Muslim and Jewish communities.
For those looking to make contact with a faith group below is a list of some of the world religions which practice in this locality.
---
Christianity
Church buildings are clearly visible in all of Scotland's towns and cities, reflecting the influence of the nation's Christian heritage. The largest Christian denomination is the Church of Scotland, which has a legal responsibility to provide worship and care for people throughout the country. The Church of Scotland is a Presbyterian church, but many other branches of the Christian Church are well represented, such as the Roman Catholic and Episcopal traditions.
The University Chaplains will endeavour to provide staff and students with information about local churches if requested.
Please also check out our worship times pages.

---
Baha'i Faith
Contact: 190 Ruthrieston Circle, Aberdeen (01224) 571444
www.spanglefish.com/AberdeenBahai
There is a very small Baha'i group in Aberdeen which is fairly informal.
---
Buddhism
Facilities for Buddhists are good and active in Scotland, however they are very poor in Aberdeen - there are no temples in the North East of Scotland.
There is a small Buddhist community in Aberdeen, but their activities are very limited.
---
Hinduism
Contact: Hindu Cultural Centre
10-12 Taylors Lane, Dundee (01382) 669 652
There are well over 100 Hindu Mandirs in the UK but only 6 of these are in Scotland. Currently, there are no facilities in Aberdeen for Hindus. The address above is the contact number for the Hindu Cultural Centre in Dundee (1 hour from Aberdeen by train). They organise puja and also organise celebrations for the major festivals.
---
Islam
Contact: Aberdeen Mosque and Islamic Cultural Centre
164 Spital, Aberdeen (01224) 493764
www.aberdeenmosque.org
There is a growing and active Muslim community in Aberdeen and the International Office has good contact with some community leaders at the Mosque. Facilities are made available for Muslim prayer at both Garthdee and Schoolhill.
---
Judaism
Contact: Aberdeen Hebrew Congregation
74 Dee Street, Aberdeen
Tel: 07810 02 4456
www.aberdeenhebrew.org.uk
There is a small orthodox synagogue in Aberdeen with a very diverse and friendly congregation. It holds services and social events throughout the year.
---
Quakers - The Religious Society of Friends
Contact: Quaker Meeting House
98 Crown Street, Aberdeen, AB11 6HJ
Enquiries: Peter McCaffery, (01224) 481 428, peter@mccafferys.ndo.co.uk
http://www.quakerscotland.org/aberdeen
There is an actice Quaker community in Aberdeen, with an average attendance of around 25 at the Meetings for Worship, about half from the city and half from the surrounding area. With a number of families attending, there is a wide age-range of children. The Meeting House itself was purpose built in 1903 and is of architectural interest. It is the only purpose-built Quaker Meeting House in Scotland that is still in use.