Stone cleaning - sandstone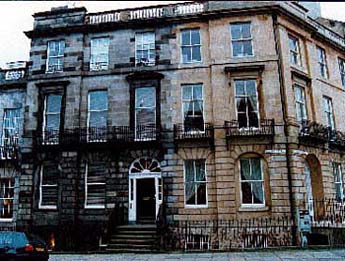 Effects of stone cleaning on Scottish sandstones
Uncontrolled stonecleaning in the past has caused severe damage to a number sandstone buildings in Scotland. Damage occurs through a lack of understanding of both the immediate and long term effects that stonecleaning treatments can have on stone. This research examined the effects of physical and chemical stonecleaning methods on building sandstones and determined which tests should be performed on the sandstone prior to cleaning to choose a stonecleaning method which will not result in excessive damage to the stone.
This research programme was funded by Historic Scotland and Scottish Enterprise for a period of two years between 1989 and 1991. The results of this research were published in the form of research reports copies of which are available through the Scottish Conservation Bureau:
Historic Scotland
Scottish Conservation Bureau
Longmore House
Salisbury Place
Edinburgh EH9 1SH
UK
Tel: +44 (0)131 6688668
The following information is a summary of the results from the research report. This information is copyrighted to The Robert Gordon University, Historic Scotland and Scottish Enterprise and if quoted should be referenced as:
Webster, R.G.M., Andrew, C.A., Baxter, S., MacDonald, J., Rocha, M., Thomson, B.W., Tonge, K.H., Urquhart, D.C.M. and Young, M.E., 1992. Stonecleaning in Scotland - Research Report to Historic Scotland and Scottish Enterprise by Masonry Conservation Research Group, Gilcomston Litho, Aberdeen.
Summary of research results
1. Introduction
A large proportion of Scotland's architectural heritage is built out of sandstone. This includes ordinary utilitarian buildings and housing which make up the bulk of the urban fabric, as well as important historic buildings.
This research project was commissioned in April 1989 after a significant amount of cleaning (beginning in the mid 1960's) had already been carried out in Scotland, both to neglected buildings in rundown areas and to listed buildings and important historic monuments. While those commissioning the research were aware of the apparent improvement, at least in the short term, to run-down areas, they were concerned that short term benefits should not be at the expense of the long term welfare of important historic buildings. There was evidence that some stonecleaning work had attempted to disguise resulting damage with disfiguring repairs, or that critical defects were left outstanding and unattended. It was felt that stonecleaning, if to be undertaken at all, had to form a part of a properly co-ordinated maintenance scheme. However, the specification of a method of stonecleaning appropriate to any one particular building was not possible as there was insufficient evidence available on the effect of different cleaning methods on different stones. Sandstone itself is not a uniform material and there are many different kinds of sandstone in Scotland many of which have been used for building. There were more than 1500 sandstone quarries in Scotland at one time.
Particular issues of concern from those involved in stonecleaning practice were raised by Historic Scotland Technical Forum in 1988 which concluded:


Water washing of sandstone is inadequate.


Abrasive cleaning causes unacceptable damage to the stone surface and is likely to accelerate subsequent deterioration.


Chemical treatments are variable in their immediate efficacy, and uncertain in their long term effects.


No known method of surface cleaning removes established patterns of staining and discoloration.


The research programme addresses these issues and broadens them by undertaking a fundamental study of the nature of the stone and its interaction with the cleaning materials, techniques and processes involved in cleaning. In addition to obtaining this physical and chemical data, the research team was also required to report on the reasons for stonecleaning and the consequences of stonecleaning as an environmental instrument. Public perceptions of the aesthetic consequences were therefore to be tested, by social surveys and social and economic analysis.
A multi-disciplinary team was required to undertake this, as the processes are complex and overlap many specialist areas. The research team therefore included chemists, a geologist, a building materials scientist, an environmental psychologist, architects and surveyors, while advice has been sought from other specialists as well as those involved in the practical issues of carrying out the cleaning processes on site. In conducting the research a database has been established, from which information can now be drawn and objective predictions may be made.
There appeared to be comparatively little published information on the cleaning of sandstone and little co-ordinated data on available cleaning techniques (other than manufacturers trade literature) which could help the specifier. Accordingly, a literature review was undertaken at an early stage during the research.
The aim of laboratory work within the research programme was to establish, by direct means, the effects of cleaning on the stone, and also to determine the feasibility of supplementing or complementing these direct determinations of cleaning effects with rapid and more economical laboratory tests which would be of use in the field.
The approach taken was to undertake an initial visual examination of more than 70 cleaned sandstone buildings in Scotland, assessing their condition and collecting general evidence of any deleterious effects. At the same time, samples of many different sandstones and cleaning materials were obtained, identified and subjected to analysis. A study of the nature of sandstone, and in particular of the samples obtained, was carried out as well as a theoretical study of the soiling of facades and general notes outlining physical and chemical cleaning methods which set the framework for the laboratory studies.
The laboratory studies that followed were divided into two main parts. Physical cleaning studies were designed so that the cleaning operations could be carried out as far as possible in a fashion and on a scale similar to that in practice (by specialist operatives) while at the same time maintaining the control necessary to be able to compare and measure the stone accurately before and after treatment. Chemical cleaning laboratory studies were carried out entirely in the laboratory, as it was only under conditions of strict control that accurate measurements could be taken.
While these experiments continued, field studies of selected buildings that were being cleaned during the research period were undertaken. The sites were visited on a regular basis taking samples where possible and recording the process and its effects.
An aesthetic and perceptual study aimed to add an extra social dimension to this research by investigating public perceptions of the aesthetic benefits, disbenefits and value of stonecleaning. This study used social survey and social and economic analysis techniques to assess the priority given by the public to stonecleaning.
The time scale of two years limited this research to concentrating only on the most important materials and systems and excluded medium and long-term experiments.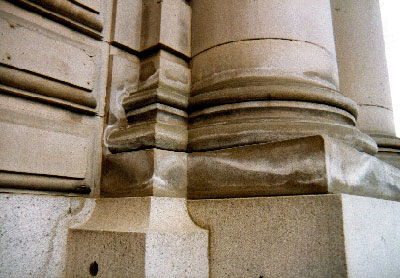 2. Summary of results
The aim of this research has been to take a rigorous and structured approach to the cleaning of sandstone, and to establish criteria on which objective decisions may be made with respect to stonecleaning.
2.1 Sandstones
A wide range of sandstones is currently available in Scotland and many more have been used in the past that are no longer available. Sandstone is a natural material and may contain a wide variety of minerals some of which may be adversely affected by certain stonecleaning techniques. The physical properties of sandstones also affect their response to stonecleaning. Important characteristics include the presence of calcareous cements, the bulk density, porosity, grain size, mineralogy and fabric of the sandstone. It is essential before choosing a cleaning method to establish whether any characteristics of the sandstone preclude some stonecleaning techniques.
2.2 The soiling of facades
Soiling is divided into two main groups, biological and non-biological.
Non-biological soiling
Non-biological soiling is caused by deposition of airborne particulate matter on a building facade. Sources of non-biological soiling particles include soot, vehicle exhausts and industrial chemical emissions. Although recent legislation has improved air quality, vehicle emissions continue to be an important factor in both facade soiling and stone decay.
Sandstone is relatively porous and permeable. Liquids can therefore move through most sandstone with considerable ease. As the moisture evaporates from the stone, this fluid, containing materials dissolved from within the stone, is drawn towards the surface where it evaporates depositing any soluble material. Such movement of materials from within the sandstone can result in staining at the stone's surface and mineralogical changes.
Biological soiling
Biological soiling is the result of organic growth on and within the stone. There are four types of organism which are of importance. These are algae, fungi, lichens and bacteria. Some organisms secrete acids and other chemicals capable of dissolving some components of sandstones. Certain bacteria can oxidise or reduce chemical pollutants in the stone aiding access of such pollutants to the stone interior and possibly altering them, making them more damaging to the sandstone. Algae are the predominant form of biological soiling on building facades. There are several factors that contribute to their development including the moisture content of the sandstone and orientation of the surface. Algae tend to entrap soot and other particulate matter.
2.3 Field study investigations of stonecleaning
To date there is very little data easily available about the cleaning history of even the more important buildings in our towns and cities. It is important, if future monitoring of the effects of stonecleaning is to be made and if the mistakes of the past are to be avoided, that a record is kept of the cleaning of buildings. These records should contain certain important pieces of data regarding stone type and characteristics, results of cleaning test panels, cleaning methods and details of any chemicals used on the facade.
Stonecleaning can lighten and bring colour, sparkle and detail to facades and will increase the reflected daylight component in the immediate surroundings. It is not however the case that stonecleaning returns the facade to its original colour or state. In addition to soiling, the weathering, decay and development of patinas on the stone surface all change the surface nature of the sandstone in irreversible ways. Different stonecleaning techniques work in different ways and the results achieved will vary depending on what components of the soiling and patina are removed from the stone surface.
Stonecleaning may alter both the colour and the texture of the stone surface. The degree of these effects depends on the stonecleaning technique employed. For instance, chemical cleaning is more likely to affect the colour of the stone while grit blasting mostly affects the surface roughness. The erosion resulting from careless or excessive grit blasting can cause severe loss of detail on facades. Following cleaning, algal growth or re-growth may be a problem. Algal growths may have been present on the soiled building but these are usually not particularly noticeable on dark, soiled stone. Algal growth on clean stone is very noticeable and disfiguring. It is likely that such organic growths are encouraged by surface roughening, increased water retention and possibly increased levels of nutrients in the stone (from some chemical treatments) after stonecleaning.
Generally, stonecleaning methods are capable of removing most soiling from building facades. Soiling may remain in areas where it is particularly deeply ingrained into the stone. Staining often remains on areas of stonework affected by long term weathering processes or on areas of exposed detail. Over an entire facade the success of stonecleaning is likely to be variable. Flat, smooth ashlar generally cleans more effectively than areas of carved detail or exposed stonework. Residual soiling or staining on smooth ashlar can be quite disfiguring but, on carved areas of stonework improved contrast can highlight previously obscured detail despite relatively high levels of residual soiling.
2.4 Field observations on chemical cleaning
Chemical cleaning can cause several deleterious effects on stonework. Staining may occur due to mobilisation of coloured minerals (principally those containing iron and manganese) within the stone. As fluids evaporate from the stone these coloured minerals may be deposited at the stone surface. Bleaching can be caused if coloured minerals at the stone surface are dissolved and washed out of the stone.
Salt efflorescences can be caused by incomplete removal of stonecleaning chemicals from the stone. Any soluble salt residues left in the stone will be concentrated at the surface as water is absorbed and evaporated from the stone during normal weathering processes. Stonecleaning chemicals may gain access to the interior of stonework through open or damaged joints or through the stone face. Surface roughening is not usually a great problem with chemical cleaning but some pitting of the surface can occur on calcareous sandstones.
2.5 Field observations on physical cleaning
Physical cleaning methods can also have potentially detrimental effects on the stonework. Surface roughening is a consequence of all grit blasting techniques except where extremely low pressures are used. Exaggerated roughening can occur on some calcareous sandstones where patches of calcareous cement are more easily eroded by grit blasting. Wet grit blasting processes can leave dust and debris from cleaning adhering to the stone surface. If this material is not washed off it may harden onto the surface. Grit blasting exaggerates cracks or defects on stones by eroding their edges.
Stonecleaning highlights areas of plastic repairs to stonework since these have usually been coloured to match the previously soiled state of the stone.
The cleaning of individual buildings within terraces is disruptive to the architectural context of a street since it breaks the wholeness of the facade. The same is often true where the entire facade has been cleaned but using different methods at different times. In this case it is very difficult or impossible to match the colour of each individual facade within the whole.
The availability of funds for stonecleaning should not prejudice technical and aesthetic judgements, and grants for repair should not be conditional on cleaning.
2.6 Experimental studies
Physical cleaning methods
Abrasive cleaning methods work by eroding back the surface of sandstone until the layer of stone to which the soiling is attached has been removed. The soiled layer is usually no more than 1-2 grain layers thick. The actual depth of material which has to be removed therefore depends on the grain size and porosity of the sandstone. Damage can be caused by erosion and roughening of the stone surface.
Pressure water washing is generally ineffective at removing severe or deeply ingrained soiling from sandstone. It is, however, capable of reducing the level of soiling. In terms of the degree of erosion caused by physical cleaning, (measured as weight loss) no significant differences were found in experimental studies between dry and wet grit blasting. Higher grit blasting pressures cause a greater degree of erosion on sandstone. Doubling the grit blasting pressure approximately doubles the amount of surface erosion. Changing the size of grit blast particles has little apparent effect on the amount of erosion. After the grit blast pressure, operator control is the second most important factor controlling the degree of erosion which takes place. The amount of material which is lost from the stone surface is affected by how many times and how rapidly the grit blast jet is passed over the surface. The amount of erosion is also affected by the degree to which weathering and decay processes have altered the surface of a sandstone. The amount of surface roughening which occurs to a sandstone during grit blasting is directly related to the degree of erosion and the grain size of the sandstone. If the sandstone has a pronounced fabric, with differences in resistance to erosion between layers, then abrasive cleaning may preferentially erode the softer layers resulting in a new surface texture on the stone. Grit blasting can also alter or remove tool marks from the surface of a textured sandstone.
Removal of soiling from the surface of sandstone opens up the surface pores and increases its water absorption rate. It does not, however, return the water absorption rate to that of the fresh sandstone. On a microscopic level, grit blasting leaves a lot of debris on the surface of sandstone. If the sandstone contained clays, these are often pulverised where they have been exposed to impact. There is little evidence of fracturing of individual grains as grit blasting appears to erode the surface by removal of grains as a whole rather than by shattering them.
There are a number of correlations between the physical characteristics of sandstones and the amount of erosion and surface roughening that takes place when they are abrasively cleaned. The important physical characteristics are: presence of calcite cements, bulk density, quartz content, porosity and grain size.
Although it is not possible to predict accurately the results of abrasive cleaning, using the physical characteristics of sandstones noted above it is possible to construct graphs to make broad predictions of the likely scale of erosion and roughening for sandstones of known physical type at various grit blasting pressures.
Chemical cleaning methods
Stonecleaning chemicals fall into two broad groups: alkalis - which are used for their degreasing action, and acids - which remove soiling from the sandstone. The effect that stonecleaning chemicals have on sandstones differs depending on the nature of the chemical and the type and physical characteristics of the sandstone. However, for all cleaning methods and sandstones, silicon (Si) and aluminium (Al) were found to be the major material losses from the stone. These are released by the stonecleaning acids. The amounts of Si and Al released suggest that they are derived from dissolution of quartz, clays and feldspars. Significant amounts of iron are also mobilised by acidic cleaners even when these cleaners apparently contain components intended to prevent migration of iron. Chemical cleaning appears to work by dissolving the stone from underneath the soiling layer rather than by dissolving the soiling layer itself. Stonecleaning chemicals can irreversibly modify a sandstone both chemically and physically.
It is inevitable that some of the chemicals applied to sandstone are retained by the stone following cleaning. These are retained in the form of soluble and insoluble salt residues. The amount of chemicals retained by sandstones is related to their porosity. The percentage of chemicals retained varies from below 20% up to almost 100% depending on the nature of the sandstone and the type of chemical. In general high pressure water washing removes about 10% more chemicals than low pressure water washing. Following cleaning, soluble salts can be found to depths of up to 10-20 mm below the stone surface. Phosphate and fluoride tend to be retained close to the surface. Sodium penetrates the stone more deeply. Mortar in joints also retains soluble cleaning chemicals although in different proportions to that found in the stone. A proportion of the chemicals retained are held in insoluble form. Soiled sandstones have been found to contain very high levels of sulphate before cleaning. The source of this sulphate is thought to be pollution rather than the cleaning chemicals.
On a microscopic scale chemical cleaning removes loose debris from the stone surface. In some cases cements are removed from the stone surface and pore openings enlarged. There is no evidence of etching of quartz grains as a result of treatment with hydrofluoric acid-based cleaning solutions.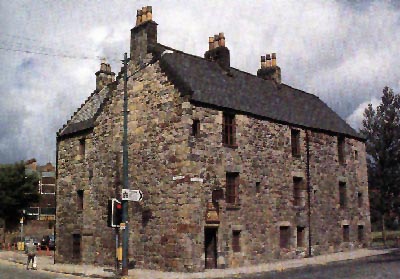 2.7 Aesthetic and perceptual studies
Survey results indicate that soiling is one of the more important ways in which buildings are conceptualised by people. However, a building may not be categorised as soiled if the level and distribution of soiling is consistent with the texture of the stone or the underlying architectural detail. When people compare identical buildings in their cleaned and soiled state the cleaned building is perceived more positively than the soiled building over a broad range of characteristics including how "well looked after" it appears, its "cheerfulness", "attractiveness", "warmth", "friendliness" and "status". There are some exceptions to this evaluation system. People often see little change to a building's "character" or its "distinctiveness". The results of cleaning also affect peoples evaluation of buildings. Two architecturally identical, cleaned facades can be perceived differently depending on the results of cleaning. Stonecleaning produces a positive change in evaluation, but the extent of the change is very much dependent on the quality of the finish produced by the stonecleaning process.
In general, residents of tenement properties which had been stonecleaned felt that stonecleaning (in conjunction with other improvements) increased the value of their property and improved the general character of the street. When stonecleaning of terraces is carried out, the results indicate that people perceive entirely cleaned terraces most positively, soiled terraces at an intermediate level and partially cleaned terraces most negatively. Partial cleaning is seen as giving a patchwork effect which breaks up the unified facade of the terrace. The general public tend to see the cleaning of historic buildings and monuments as a high priority Tenements and rows of houses are also rated as a relatively high priority but commercial and industrial premises are often given low priority.
The vast majority of people sampled saw stonecleaning in Glasgow and Edinburgh as being entirely or largely for the better and many of the Glasgow sample felt that stonecleaning on the large scale had altered the character of their city for the better. There were some buildings which because of their historical significance or level of soiling, or an interaction of the two, were seen as being better left in their soiled condition.
A survey of professionals involved in the valuation and selling of domestic and commercial properties revealed that most felt that stonecleaning increased the value and marketability of some properties. The scale of this increase was more apparent at the less expensive end of the property market. A survey of agents knowledge of the practical aspects of stonecleaning revealed that in general they lacked the specialist knowledge to make technical decisions about stonecleaning. Many decisions were left to the contractor on site. In many cases the limited budget prevented them from doing as good a job as they would wish.
In order to ascertain a professional appraisal of the aesthetic effect of soiling and stone cleaning within an urban context, a questionnaire survey was undertaken of Edinburgh architects. Responses indicated that architects generally felt that stonecleaning had a beneficial effect on the urban landscape. The main negative effect of stonecleaning on the townscape of Edinburgh was seen as the disruptive effect it had on street unity when only parts of streets were cleaned or where different cleaning methods were used in the same street. Other negative effects reported included the potential accelerated weathering and soiling of stonecleaned buildings, the loss of stonework detail, and the reduction in contrast between buildings and the skyline caused by cleaning.
While there were a significant minority of architects who appeared to be either totally opposed, or totally in favour of stonecleaning, the majority had a multiplex attitude to stonecleaning, feeling that some buildings are aesthetically enhanced by soiling while others would be improved by cleaning especially by the restoration and clarification of architectural details which emerge from the previously blackened facade and by restoration of the stone colour and brightening of the facade. Architects also reported a number of negative changes to the visual character of buildings following cleaning. Included amongst these were the loss of depth and detailing, the removal of patina and damage to the fabric of the building. Another problem identified was the resulting confusion of the historical context which was seen to result from cleaning - buildings tended to look artificially young. The problems which can arise due to stonecleaning include exposure of defects, staining, bleaching (seen as the most serious problem) and algal re-growth (seen as the least aesthetically serious problem caused by stonecleaning). A clear majority of architects were against partial cleaning of terraces. The majority of Edinburgh architects felt that stonecleaning had been largely for the better, but a significant minority felt the effect has been for the worse. In comparison to residents, architects tended to be more cautious in their view of the effects of stonecleaning in Edinburgh.
The results from the aesthetic survey of architects illustrated the divergent views on stonecleaning within the profession. The majority of architects were largely in favour of stonecleaning, but had reservations on visual, aesthetic, physical and townscaping grounds. A small percentage of architects remained totally opposed to any form of stonecleaning. Stonecleaning was generally seen to be most successful in tenement areas where a co-ordinated strategy was adopted, and where large free standing buildings were cleaned with adequate resources, using appropriate methods.
The need for an overall planning policy for the city was evident. Inconsistent policies, poor specification, lack of knowledge and poor workmanship of cleaning contractors had led to examples of bad cleaning. Clearly the various stonecleaning techniques were seen to differ considerably in the aesthetic effects produced. Architects made a distinction between those techniques which attempted to remove surface soiling only while leaving intact the patina and more ingrained soiling and techniques which aimed at more complete removal of soiling which had potentially a greater adverse effect on the stone. The issue amongst Edinburgh architects was clearly a contentious one.
The soiling levels on buildings affect their visual complexity. The extent of this effect depends on the level of soiling, the building type and the underlying architectural detail. In effect, buildings go through a cycle of soiling where visual complexity is linked to the aesthetic appeal of a building. A theory is proposed that similar soiling levels on different buildings may have varying effects on the visual complexity, and hence on the aesthetics of a building, depending on whether they are consonant or dissonant with the underlying architectural detail and on whether they obscure or enhance detail. This theory implies that on some buildings soiling at a relatively low level may enhance the building's appearance. The aim of stonecleaning should be to return a facade to an earlier point in the soiling cycle where soiling does not obscure detail and the visual complexity and aesthetic appeal of the building is close to the maximum.
The aesthetic and perceptual work has illustrated the complex relationship between buildings with respect to the level and nature of soiling and the aesthetic effect which these can have. The research points to the vital role to be played by planning authorities in relation to stonecleaning. Planning authorities have not always been consistent in their attitude to stonecleaning which has, in some cases, had aesthetically detrimental results. Planning authorities need to be pro-active in policy formation. Policy needs to be developed at the city level so that responses to applications to clean can be evaluated in relation to this policy. The development of such a policy would require an audit of the urban building stock in relation to the soiling of building facades. Urban areas with street of uniformly moderate soiling can be aesthetically pleasing (e.g. areas of Edinburgh's old and new town) and the unity of such areas should not be destroyed by random cleaning.
A distinction needs to be made between cleaning which is designed to remove only surface soiling deposits (e.g. brushing, low pressure water washing, low pressure blasting) which leaves some soiling visible on the building, and more aggressive techniques which are designed to remove more ingrained soiling. This distinction may have planning implications.
In areas where soiling is shown to be aesthetically detrimental, a cleaning policy should be developed in relation to the wider urban context of the building. The cleaning of individual buildings in facades should be discouraged. Cleaning of facades should take place at one time using a uniform method. This may have implications for the way in which support for stonecleaning is funded by authorities. Specifications of the visual end result of cleaning should be incorporated along with other specifications.
Return to Masonry Conservation Research Group
Return to Environments for People Research Centre