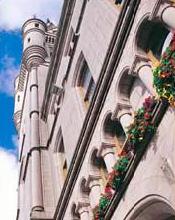 Effects of stonecleaning methods on Scottish granites
Granite is used as a building stones in and around Aberdeen and in south west Scotland. This research continued from that done on the cleaning of sandstones, however, due to their much lower porosity, the response of granites with respect to cleaning may be very different to the behaviour of sandstones. This research examined the effects that physical and chemical stonecleaning methods have on granite building stone, and what tests should be performed on the granite prior to cleaning to determine a stonecleaning method which will not result in excessive damage to the stone.
This research was funded by Historic Scotland , Scottish Enterprise and Grampian Enterprise for a period of two years between 1993 and 1995. The results of this research have been published in the form of research reports copies of which are available through the Scottish Conservation Bureau at:
Historic Scotland
Scottish Conservation Bureau
Longmore House
Salisbury Place
Edinburgh EH9 1SH
UK
Tel: +44 (0)131 6688668
The following information is a summary of the results in the research report. This information is copyrighted to The Robert Gordon University, Historic Scotland and Grampian Enterprise and if quoted should be referenced as:
Urquhart, D.C.M., M. Jones, J. MacDonald, K. Nicholson and M.E. Young, 1996.
Effects of stonecleaning on granite buildings and monuments. Report to Historic Scotland, Scottish Enterprise and Grampian Enterprise.(334 pages) ISBN 0 9517989 8 7

Summary of research results
There is a general perception that granite building stone is such a durable material that problems encountered in cleaning other stone types have little relevance to granite. However, granite is not immune to the processes of decay and many historic granite buildings throughout the world are subject to significant decay that is causing concern for the conservation of the stone. The decay of the granite surfaces takes a variety of forms such as scaling, flaking, surface degradation and erosion of arises.
While Aberdeen is the predominant location for urban granite buildings in the United Kingdom there are many granite buildings, structures and monuments throughout the country, especially in south-west Scotland.

Soiling of granite facades
Observations have been made at a number of sites within Aberdeen on the nature of soiling on granite building facades. The soiling falls into two basic types. The most common form of soiling was a thin, compact layer, tightly bound to the stone surface. The second form of soiling found was a crust, several millimeters in thickness, found on some wall surfaces and in sheltered locations adjacent to water run-off zones. Crusts appeared to form in areas which are periodically moistened by adjacent run-off, but are seldom or never wetted directly, either by rain fall or run-off. The compact soiling layer commonly contained patches of gypsum along with sodium chloride, combustion products and mineral grains. Analysis of crusts indicated that they were composed mainly of gypsum with secondary amounts of granitic mineral grains, clays and combustion products.
Buildings begin to re-soil immediately after cleaning but there is little knowledge of the rate of re-soiling. The rate of re-soiling is dependent on a number of factors including levels of air pollution, climate, stone characteristics and facade geometry. Some areas of facades re-soil faster than others, for instance, re-soiling appears to occur earlier in or around areas affected by run-off. In particularly damp areas, biological soiling initially appears to accumulate more rapidly than particulate soiling.
Measurements have been made, by colour measurements, of the colour changes on cleaning and of the rate of re-soiling of cleaned granite test panel surfaces at 27-29 King St., Aberdeen. No evidence was found of any bleaching or staining attributable to cleaning. With respect to re-soiling, after one year the average change in brightness for all cleaned surfaces was a loss of about 1%. If soiling was to continue at this rate the panels would have returned to their pre-cleaning brightness in about a decade.
Granite decay
Generally, the manifestations of decay observed in Aberdeen were: spalling of the ashlar face, scaling, loss of detail at arises, granular disaggregation, algal growth occasionally associated with spalling, crustal development and compact soiling deposits.
Mortar joints
Around Aberdeen, observations of stained granite below the junction between mortar joints and the underlying stone have been made. Streaks of darker soiling can also be seen below vertical joints. The staining requires more characterisation, but it is believed that this represents a wet zone. On granite facades the mortar joints may act both as reservoirs for water and as the main route for transport and evaporation of moisture from within the facade. It is possible that this staining is caused by some reaction between pollutants in rain water and the materials of the mortar. Decay of granite associated with hard, impermeable cement mortars has been observed around Aberdeen and other areas.
A value assessment of stonecleaning
Previously reported work (Webster et al., 1991, Andrew et al., 1994) has examined the effect which stonecleaning may have on the aesthetic value of sandstone building facades. The conclusions drawn from that study cannot be directly applied to granite facades since the visual qualities inherent in the two stone types are quite different.
It was initially anticipated that data gathered regarding the effect which stonecleaning has had on market selling (and letting) values of properties in the past could be used as a major prediction device in the future. However, initial contact with professional valuers left the overwhelming impression that the aesthetics of a facade were regarded as being of minor importance, when compared to other features such as structural soundness, location, proposed use and size. Nevertheless, the market value (or rent obtainable) associated with a property will be of paramount importance to the owners, who would usually be required to contribute large amounts of capital towards the cost of stonecleaning work, where it is required.
The property market is influenced by a large number of factors including general market trends, fashion, desirability of certain areas and the state of the economy, all of which are difficult to relate to each other in a manner which is not subjective to some degree or another. The effect of stonecleaning is therefore extremely difficult to isolate through simple observation of actual property values. In a number of interviews it was found that there exists the widespread opinion that granite facades tend to benefit less from cleaning than facades constructed from sandstone.
In a questionnaire survey it was found that the mean value for the predicted effect of stonecleaning on property value tends to increase where the property concerned is in the city centre. Although the mean expected increase in value may be almost 4% (for owner occupied commercial properties in the city centre), the median effect in nine out of the twelve categories was zero. The estimates for owner occupied commercial properties in the city centre, and owner occupied residential properties, also had median figures greater than zero, indicating perhaps that these categories were more responsive than others to the implementation of stonecleaning. The fact that owner-occupier properties have registered a slightly higher estimate of effect on value than the other categories is most likely due to the desire felt by most people to reside in a building which they personally find attractive, rather than for any hard financial reason. Anecdotal evidence collected during interviews supported this.
It was indicated during interviews by a number of the respondents that the loss of aesthetic unity which may result from a tenement block being cleaned in stages, possibly using different methods, is not at present seen as being of any great importance to the valuation process. It can be concluded that the effect which stonecleaning may be expected to have on the market value of granite properties in Aberdeen which have not yet been cleaned could be predicted as not exceeding a 2% increase in any of the property categories considered. The most frequent reply from surveyors claiming a very low effect of stonecleaning on market value was that, whilst the cash figure placed on the property's value may not noticeably change as a result of cleaning, the marketability of the property would most certainly be enhanced, often leading to a shorter period between the property being put on the market and a buyer or tenant being found. The financial implications of improving cash flow should not be underestimated.
Those interviewed were asked if the possibly detrimental effects of stonecleaning to structure and aesthetics (where work is poorly or unadvisedly carried out) could have a negative effect on value. All respondents indicated that they could think of no examples of such an occurrence.
The two markets of owner-occupiers and investors must be considered separately as the overwhelming impression given was that property investors are generally uninterested in the aesthetics of a building, providing cashflow in maintained.
Survey of granite buildings in Scotland
Granite is used as a building stone mainly in two regions of Scotland, around Aberdeen and in south-west Scotland. A small scale survey has been carried out of the general state of granite buildings in these two areas, especially where they have been subjected to stonecleaning. While details can in some instances be obtained on the stonecleaning of buildings the accuracy of this data is uncertain and generally details of any previous cleaning history are not available. Even where details are available they are often sketchy and insufficient to allow proper analysis of the effects on the building in retrospect. It is also not possible to ascertain the state of the building prior to cleaning.
In most rural areas and areas with relatively little industry, including the south-west of Scotland, the levels of particulate soiling on granite buildings were very low. Despite this cleaning has still been carried out on a number of properties. The amount of biological soiling (mainly green algae) was much higher in south-west Scotland than around Aberdeen. This is due to the higher rainfall in the south-west of the country.
On granite facades and structures where higher pressure grit blasting methods have been used there was often evidence of damage to the surface texture by erosion. On some chemically cleaned facades surface spalling around joints and on surfaces of blocks was observed. It is not possible to say with certainty whether this decay was related to, or was exacerbated by stonecleaning. Similar decay has been noted on a number of buildings, not all of which have been subject to cleaning.
It was difficult to draw many conclusions from examination of buildings which were cleaned at some time prior to this study since details of the cleaning methods which were used were often sketchy or unavailable and there was little or no information on the earlier history of the building, including any previous cleaning episodes.
Granite in contact with other building materials
A number of sources have recorded examples where granite in contact with other building materials appears to suffer more rapid or extensive decay than granite elsewhere on the facade. Problems arise most often where the granite underlies a more porous stone type and where the stone is calcareous. A survey was carried out of a number of facades with mixed stone types around Scotland. Out of thirty-one facades examined, only four showed a relatively high level of decay of sandstone at the sandstone-granite contact. Three other sites showed slight decay of sandstone at the contact zone. Decay took the form of blistering, spalling, granulation or flaking of the sandstone immediately adjacent to the granite over a distance of up to a few centimetres. Four out of the seven buildings had obviously, or were known to have been, cleaned although the method used was known only on one case. It was therefore not possible to say whether the observed decay was related to the effects of chemical cleaning. There was no visible damage to the granite in the contact zone. It was thought possible that sandstone-granite contacts were only a problem where the sandstone had particular characteristics which make decay more likely.
Field studies of stonecleaning
A wide variety of stonecleaning methods, both chemical and physical, have been assessed in test panels at various sites around Aberdeen.
Colour and brightness changes on facades were measured with a chroma meter. While such variations can be measured accurately, it is not necessarily the case that subtle variations are detectable by eye. Measurable variations which are not visually detectable on the building facade would not be practically important in terms of the outcome of stonecleaning. In experiments with cleaned granite samples 100% of subjects were able to distinguish brightness variations greater than about 3 to 4% and many were able to distinguish smaller variations. Comparing the brightness differences over small surface areas is likely to be a more difficult task than making the same comparison over the larger surface areas on adjacent test panels or buildings. In fact, in the field tests it was noted that there was a noticeable difference in brightness across the sharp junction of two test panels where the measured average brightness variation between these two panels was less than 0.5%. It is likely that brightness variation below 0.5% are detectable by eye on adjacent areas, especially on relatively smooth stone surfaces. This has important implications for the cleaning of adjacent properties or terraces since it emphasises the care which must be taken when cleaning is carried out if unsightly variations in tone are to be avoided on stonework whose appearance is intended to be homogeneous. Where facades are not immediately adjacent or where there is some break in the facade which separates cleaned areas of stonework the level at which brightness variations would be detectable would be higher.
Colour analysis on test panels indicated that both water jetting and detergents had no visible cleaning effect on soiled granite. Water jetting and detergent washing were effective only in the removal of algae and loose superficial debris. Of the physical cleaning methods tested, some were more effective than others although with the more aggressive methods visible damage was often done to the surface of both granite and mortar, with the granite, after cleaning, seeming somewhat scored or scratched and the surface being quite dull in appearance. On the mortar, larger grains had generally been plucked out leaving the surface noticeably pitted. Less aggressive physical cleaning methods and methods which used relatively soft grits can generally remove most of the soiling from granite with less damage to the surface than more aggressive methods. In some cases wet grit methods could leave appreciable amounts of residual soiling on the surface.
All of the chemical cleaning methods tested were capable of removing soiling from granite and mortar except where the soiling was particularly heavy or where hard crusts were present. Generally chemical cleaning methods using an alkaline pretreatment followed by an acid cleaner were found to be no more effective than using the acid treatment alone. It was also possible to reduce the dwell times of chemicals on the granite surface from those recommended by the manufacturers with no reduction in the amount of soiling removal. There was no evidence of bleaching or staining attributable to any chemical cleaning method.
The soiling on granite surfaces before cleaning varied from sample to sample. In some cases the thick soiling layer consisted mainly of organic debris and mineral fragments along with hydrocarbons and combustion products with very little sulphate. However at other sites substantial deposits of calcium, sulphur and chlorine bearing minerals were found. Much of the calcium and sulphur is probably in the form of gypsum. Chlorides may be derived either from road salts or from sea spray. This data indicates that the nature of the soiling on granite buildings is not always the same but can vary in character from place to place, probably dependent on the local incidence and type of atmospheric pollutants.
There was no indication that any damage had been done to the granite surface by any chemical cleaning process. There was no evidence of mineral etching, dissolution or chemical alteration of any of the minerals following cleaning. Cleaning may be beneficial to the stone through removal of gypsum, which is thought to be implicated in granite decay. However, it is not clear what might be the consequences of its removal.
The amounts of soluble ions present in the granite before cleaning were measured. The amounts of these ions present in soiled stone and mortars probably varies from place to place. The amounts of sulphate, for instance, can vary quite widely. After cleaning using cleaning agents which contained sodium or fluoride, in some cases the amount of sodium or fluoride in the granite or mortar was slightly increased although results varied very widely from sample to sample.
Laboratory studies of physical stonecleaning methods
All the physical stonecleaning methods tested were capable of removing soiling, to varying degrees, from granite surfaces. Generally, the greatest degrees of soiling removal and surface erosion occurred with higher pressure grit blasting using harder grits. The equivalent wet grit blasting at the same pressures was noticeably less aggressive and generally achieved lower levels of soiling removal. Comparing less aggressive methods using softer grits (calcium carbonate) or very low pressure grit blasting methods, there was little difference between the two methods in the overall levels of erosion but generally, very low pressure grit blasting achieved more soiling removal, often close to the levels achieved by higher pressure grit blasting.
While it is generally true that more soiling removal would result in a greater degree of weight loss, it is not necessarily the case that methods giving more weight loss provide a better clean since weight loss may also result from erosion of granite below the soiling layer. A greater degree of erosion may therefore indicate excessive abrasion of the stone surface. Alternatively, a low degree of erosion could result where a cleaning method was too gentle, resulting in little or no soiling removal. Successful cleaning requires a balance which can achieve maximum soiling removal with minimum stone abrasion. A cleaning method which works on one stone type may not necessarily work equally well on another since granites may vary widely in their hardness. Harder, unweathered granites may be quite resistant to erosion allowing relatively abrasive methods to be used. However, on softer or weathered granites even gentle cleaning methods may result in relatively large degrees of surface loss. Soiled granite surfaces were shown to suffer more erosion on physical cleaning than initially fresh granite surfaces. This observation suggests that the soiled surface has undergone some alteration making it more vulnerable to physical damage than a fresh surface. This alteration may be caused by weathering, action of pollutants or tooling of the surface, and it may be a result of a combination of all three processes.
Laboratory studies of chemical stonecleaning methods
All of the acid and alkaline reagents used in the chemical cleaning solutions or pastes were capable of removing some or all of the soiling. Thus during some two stage cleaning processes where alkaline degreaser was employed the stonework was visibly cleaner prior to the application of acidic cleaning solutions. It was also found that acidic chemicals applied without previous degreasing were capable of removing most or all of the soiling.
Chemicals were shown in the field and later in test panel situations to be capable of removing soiling at lower concentrations and dwell times than suggested by the manufacturers. The risk of damage to the stone face may be reduced greatly by the application of more dilute chemicals for shorter periods and an end result of comparable cleanliness to a full strength cleaning regime could be achieved.
Depth profile analysis showed that pollutants such as sulphate were able to penetrate into the granite of the test panels, field study panels and single blocks in the laboratory. The levels of pollutants present were very low and generally only present in the surface 0-5 mm.
There was very little penetration of applied chemicals in samples taken from the test panels, field studies and in the laboratory cleaned samples. The laboratory cleaned samples displayed the greatest penetration of chemicals which may have been due to the washing procedure being less efficient than the washing procedure used in the field and test panel studies. Even in the laboratory samples the depth and amount of chemical penetration was very small. The test panel and laboratory work seems to suggest that there may be increased chemical retention in more porous granites.
The effects of chemical cleaning agents on mortar were somewhat different to that on granite. Pollutants were found to have gained access to depths of beyond 10 mm into mortar joints in the field.
References
Andrew, C.A., M.E. Young and K. Tonge, 1994.
Stonecleaning: a guide for practitioners. The Robert Gordon University, Aberdeen, Historic Scotland.
Webster, R.G.M., Andrew, C.A., Baxter, S., MacDonald, J., Rocha, M., Thomson, B.W., Tonge, K.H., Urquhart, D.C.M. and Young, M.E., 1992.
Stonecleaning in Scotland - Research Summary, Report to Historic Scotland and Scottish Enterprise by Masonry Conservation Research Group, Gilcomston Litho, Aberdeen.

Return to Masonry Conservation Research Group
Return to Environments for People Research Centre