Algal Growth and Biocide Efficacy on Sandstone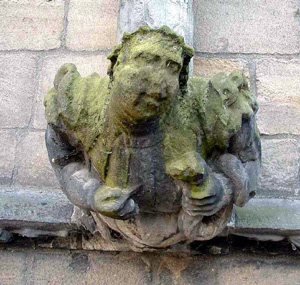 Extensive green algal growths on sandstone buildings may be considered disfiguring. Biocides are sometimes used to control algal growth on building stones. The effectiveness and the effective lifespans of these biocides varies depending on the composition of the biocide and the characteristics of the sandstone.

This research was funded by Historic Scotland for a period of two years between 1991 and 1993. The full results of this research were published in the form of research reports copies of which are available through the Scottish Conservation Bureau at Historic Scotland:

Historic Scotland
Scottish Conservation Bureau
Longmore House
Salisbury Place
Edinburgh EH9 1SH
UK
Tel: +44 (0)131 6688668
The following information is a summary of the research results. This information is copyrighted to The Robert Gordon University and Historic Scotland and if quoted should be referenced as:
Urquhart, D.C.M., M. Jones, K. Nicholson, R. Wakefield and M.E. Young, 1995. Biological growths, biocide treatment, soiling and decay of sandstone buildings and monuments. Report to Historic Scotland.

Summary of research
This research was commissioned in August 1991 to provide a better understanding of the mechanisms of biological growth on sandstone buildings and monuments, their influence on stone decay and the efficacy of biocide treatments. Within the two year time scale of the project considerable effort was expended to develop experimental techniques which would provide meaningful results within this very limited time period.
The study was divided into two main areas involving data gathering tasks both in the field and in the laboratory. Extensive field studies on selected buildings and monuments were required to record the nature and pattern of soiling on sandstone by biological growths, principally algae. Two major surveys were carried out on the distribution of biological growths on sandstone buildings. One survey concerned buildings and monuments in the care of Historic Scotland, located in both rural and urban areas, the other concerned buildings and monuments in towns and cities across Scotland.
As the colonisation of a substrate by algae and other growths is, to a great extent, associated with the availability of water at the stone surface, particular attention was paid to those factors which tend to increase this. These factors included stone characteristics, geographical location, architectural features, climate and microclimate, orientation of elevation, surface roughness or texture of the stone, extent of shading, building maintenance and the extent of existing biological growths.
From a review of literature relevant to the study, many references were made to the role of biological mechanisms in stone decay, and it was acknowledged that the processes are very complex and not yet fully elucidated. In comparison, there was little reference made to the action and efficacy of biocides on sandstone.
1. Climatic data from selected Historic Scotland sites
The climate of Scotland is geographically variable and affects the nature of the distribution of biological growths. Climatic data from seven meteorological stations distributed throughout Scotland were obtained from the Meteorological Office. Six of these sites were located at, or close to, the locations where rainfall run-off samples were being collected. Detailed climatic data covering the year 1992-1993 and mean climatic data covering spans between 31 and 91 years were obtained. Although quite detailed information was available in the locality of the stations, it should be appreciated that even within a small area there may be local differences in precipitation and sunshine.
The chosen Historic Scotland field sites and associated weather stations were Hermitage Castle (Eskdalemuir weather station) Crossraguel Abbey (Prestwick weather station) Glasgow Cathedral (Glasgow weather station), Arbroath Abbey (Arbroath weather station), Elgin Cathedral (Kinloss weather station) and Dirleton Castle (Dunbar weather station). From the weather station data of Eskdalemuir, Glasgow and Prestwick, the sites close to these, Hermitage Castle, Glasgow Cathedral and Crossraguel Abbey respectively, received relatively more free falling rain that other sites, with considerable variation between wetter and drier months. These sites also received less sunshine.
Air pollution data were obtained from the City of Aberdeen Environmental Development Division from a site at Kaimhill in Aberdeen. Additional data on air pollution levels throughout the UK were obtained from the United Kingdom Review Group on Acid Rain (1990). The highest levels of sulphur dioxide in the atmosphere at Kaimhill occurred during the winter months. Levels of nitrous oxides showed no obvious seasonal variation. Smoke levels were found to vary greatly from day to day, the highest peaks occurring during the winter months. Levels of sulphur dioxide, nitrous oxides and smoke at Kaimhill fell within ranges typical of those of urban areas of the UK (UK Review Group on Acid Rain, 1990).
2. Biological survey of selected Historic Scotland properties
In a survey of selected Historic Scotland sites, it was found that the stonework exhibited varying degrees and types of growth. Biological samples were collected, taken from areas which showed the most frequent and most typical growths of the site, and also from areas which showed particularly dense growths or where they appeared to be associated with decay.
The survey revealed a wide range of algal species to be present at the wall surface with species such as Pleurococcus and Chlorococcus type green algae being almost ubiquitous. The majority of species were members of the class Chlorophyta (green algae). In particularly damp areas close to soil accumulation, members of the Bacillariophyta (diatoms) were present. Fewer examples of other divisions were found, these being limited to members of the Cyanophyta (blue-green algae) and the Xanthophyta (yellow-green algae). The range of species found were typical of those found in sub-aerial environments.
A pattern of species distribution with geographical location was not apparent. However, from the small number of samples taken (60 in total, between 3 and 5 per site), and the range of different microclimates investigated within the sites, any definite pattern of algal species distribution would be difficult to establish. In general, the species diversity, particularly among lichens, was greater in rural than in urban areas. For example, Spynie Palace, Fort George, Tantallon Castle, Hermitage Castle and Dunstaffnage Castle, all in rural areas, had a variety of lichen species, mosses and algae in relative abundance. Algae were the most frequently occurring type of growth on the walls of Elgin Cathedral, Arbroath Abbey and Stirling and Edinburgh Castle, which also had lichen growths although these were less frequent. The north wall of Hermitage Castle supported the growth of an algal species which was not found in such abundance at other sides sampled. The alga requires a humid environment in which to growth, and its growth is discouraged in high light levels.
At each site sampled, it was found that areas retaining more moisture supported a larger species diversity than those areas which had a lower degree of moisture retention. However, those areas receiving run-off water had a slightly lower species diversity than areas receiving water from rain fall and retaining the moisture. In areas which supported blackened, thick growths, the black coloration was mainly caused by the dense algal growth and its associated mucilage.
Areas which had been treated with biocide washes in the past exhibited no lasting biocidal effects. Treated areas receiving run-off water and those located in damp, sheltered areas often had abundant green algal growths.
Although aspect was found to affect the abundance of biological growths, with north facades in general supporting more growth than south facades, the presence of growths appeared to be more influenced by the conditions in the immediate surroundings, although growths on areas facing south-west were less abundant. The importance of moisture was demonstrated frequently on walls with crevices, with protuberances of the building stone creating sheltered areas and alcoves where algae were more abundant.
The influence of aspect is largely due to the effect of direct sunlight drying out south facing stonework more rapidly. Commonly algae and moss, which require relatively damp conditions, were concentrated on the north facade or on sheltered or unusually damp locations. Lichens were concentrated on drier facades because of their greater tolerance to low moisture availability. The distribution of algae on a facade was often predictable. They occurred on sloping areas of stonework, around the top and edges of walls, below exposed windows and under areas where water was channelled. Moss was located in similar areas as well as in cracks, joints and crevices where soil tended to accumulate. The distribution of lichens were much less predictable. Lichens can often be found on north, west, east and even south facing facades and on more exposed stonework, such as gravestones, which are generally somewhat drier locations.
The distribution of biological growths was affected by stone type. In the case of Dirleton Castle, algal growths on sandstone were more abundant than algal growths on volcanic rock. This was most likely the result of the different moisture retention properties of the two materials due to their different porosities.
Substrate pH can influence the rate of growth and types of organism which colonise a stone surface. The growth of mosses on relatively new sandstone at Fort George did not appear on areas where wash-off from the freshly applied mortar was evident. This was likely due to the high pH of the lime-rich water present in the stone.
Evidence of association of biological growths with deterioration of stone was found on some areas of stonework colonised by lichens and algae, e.g. Spynie Palace, Arbroath Abbey, Elgin Cathedral and Dunstaffnage Castle. An orange alga found on the north wall of Hermitage Castle was associated with general decay of the sandstone surface (see link given above).

3. Survey of biological growths on buildings and monuments
In addition to Historic Scotland sites surveyed for distribution of biological growths, a number of buildings in towns and cities across Scotland were surveyed to examine the influence of building characteristics and climatic variations on biological growths. The architecture and detail of a building is a major factor controlling the degree of surface wetness, with certain features encourage entrapment of water.
Of the samples taken of biological growths from selected urban sites throughout Scotland, there was a common occurrence of the toxitolerant algal genera Pleurococcus in the cities of Aberdeen, Glasgow and Stirling. The towns of Elgin and Inverness tended show a greater number of species. Lichens tended to be sparse on city sites and more evident on buildings in less polluted atmospheres.
Of the buildings surveyed, a significant proportion of the facades inspected had been cleaned at some point in time. It was not possible, in most cases, to obtain accurate information on the method of cleaning. From visual inspections, there did not appear to be noticeably more biological growths on cleaned facades. On cleaned stone the greening effect was more obvious than on soiled stone, but closer inspection of soiled stonework revealed a similar pattern and intensity of growth. It is possible that colonisation initially occurs rapidly on cleaned stone. However, after exposure over a number of years the differences in the degree of biological soiling on cleaned and uncleaned facades may be insignificant.
The architecture and detail of buildings were major factors influencing the distribution of algae. This study found little evidence of algal colonisation on plain, unornamented facades throughout Scotland. Exceptions to this general observation occurred on buildings in Castle Douglas (with a relatively wet climate) where algal growths were extensive on plain facades in shaded situations.
Algae tend to colonise horizontal or sloping surfaces, projections from a facade which intercept run-off and the run-off zones immediately below such projections. Structures such as monuments, steeples and the like, where rain water is directed onto stonework, were the most severely affected. Projecting base courses were also vulnerable to colonisation by algae. In these situations, algal growth was particularly heavy. Such stonework receives run-off from the building above and splash-back from the ground, together with increased nutrient availability from accumulated soil and dust.
North and east facing stonework generally provided a more favourable environment for colonisation. Where the stone surface is dressed sandstone, there was little evidence to suggest that minor differences in surface roughness had a significant effect on the extent or intensity of colonisation.
4. Field site monitoring and sandstone weathering
Rates of sandstone weathering may be affected by the presence of biological growths. The measurement of cations in rainwater run-off from sandstone masonry can give information regarding the relative rates of weathering of stone colonised by algae and stone that is growth free. The removal of cations from minerals in the matrix of stone is one mechanism of chemical weathering, with water being the single most important agent in this process. Cations can be mobilised and taken up into biological systems, incorporated into an insoluble form or leach out of the matrix altogether in water percolating through the stone.
To obtain information regarding natural weathering rates of sandstone, in terms of the loss of cations from the stone matrix over a minimum 7 month period, apparatus was set up for the collection of free-falling rain and rain water run-off from growth-covered and growth-free sandstone walls at a selection of six Historic Scotland sites (Glasgow Cathedral, Hermitage Castle, Crossraguel Abbey, Dirleton Castle, Arbroath Abbey and Elgin Cathedral). The samples were collected and analysed weekly for the presence of soluble potassium (K), iron (Fe), aluminium (Al), silicon (Si), calcium (Ca) and magnesium (Mg).
Median monthly concentrations of cations in water and the volume of water collected were measured. The cation concentrations in water from growth zones, clean zones and free falling rain water showed that there were great variations between sites and between different collection zones at each site. Three main trends in the data were seen:
For Fe, Al, Mg, Ca and K many of the data showed monthly patterns of low and high median concentrations of elements occurring in free-falling rain water which were similar to rises and falls in concentrations in water collected from growth zones and clean zones. Where this occurred, the conclusion was drawn that any patterns in ion content in water collected were likely to be related to concentration of deposited air-borne contaminants rather than any biological effect. For some of the sites, no trends in ion concentration were observed. In this case no conclusion was drawn as to the origin of elements measured in the water samples. At some sites, distinct trends were observed where the concentration of an element was notably different in water from one particular collection zone. In this case, the conclusion was drawn that the origin of the mineral element measured was either the stone itself or was related to the presence of biological growths.
The mechanisms by which elements were lost from the stone are not yet fully understood. Concentrations of elements measured in rainwater wash-off from the six sites were highly variable and were subject to complex control mechanisms which varied from site to site, with stone type, location and types of biological growths.
5. Biocides
From a literature survey of biocide agents against masonry biological growths, the most successful biocides contained an organo-tin compound. These substances have been banned in Britain and now the most common active ingredients used in masonry biocides are organo-chlorine, copper, amine, borate or quaternary ammonium compounds. On reviewing the wide variety of masonry biocides available on the market, it was found that substances could be categorised into five main generic types: quaternary ammonium salt, amines, dichlorophenol, phenoxides and copper. Frequently, different generic types were mixed together, or mixed with another compound such as borate or zinc salts.
Manufacturers recommended application onto dry surfaces, during dry weather and to surfaces from which large, removable growths, such as moss and thick algal mats, had been brushed away. No recommendations were given as to the type of stone the biocide could be suitable on. From the literature, it appears that products are rarely designed specifically for the conservation of objects made of sensitive materials and the compatibility of biocide and substrate is rarely considered. With these factors in mind, the large pH range of working biocide solutions (between 4 to 10), could be a primary cause of concern in selection of biocides for particular stone types.
Traditionally, biocide efficacy has been assessed in the laboratory through toxicity tests carried out on agar or liquid cultures of the target organisms. It is often the case that these substances perform differently when applied to a substrate such as stone. Biocide efficacy tests incorporating microorganism-stone-biocide interaction have been recognised as being more relevant and many researchers are now considering the need for the development of standardised methods of biocide screening using specific test materials such as building stone and mortars. When considering screening biocides for substrate-organism interaction, an important factor is the correlation between field and laboratory trials if results from a laboratory screening methods are to be relevant in practice.
6. Field and laboratory studies of biocide efficacy
Field and laboratory studies were carried out involving the assessment of biocide effects and efficacy on a range of sandstone types. The studies involved the application of a representative sample of chemical types most commonly used in algicidal preparations, to a range of unsoiled, Scottish sandstones of representative porosity, mineralogy and colour. The biocides used contained amine, quaternary ammonium, copper and dichlorophenol as the active ingredients. Samples were incubated under both laboratory conditions of controlled temperature, moisture and light and in the field, under naturally varying conditions of moisture, light and temperature. Efficacy, determined by comparing the rates and/or the amount of algal growth occurring on biocide-treated and biocide-free stone surfaces, by visual assessment or measured colour change, was found to differ with biocide and stone type.
7. Laboratory biocide efficacy evaluation
In laboratory studies, biocide-treated stone surfaces were kept permanently saturated, illuminated on an 18 hour light cycle and kept at a constant temperature of 15C. Algal growth was allowed to develop under highly suitable conditions. Under these conditions, biocide-free samples of Cat Castle, Corsehill and Locharbriggs sandstone developed light to medium degrees of algal growth over 12 weeks. Leoch sandstone did not develop algal growths.
Of four generic types of biocide used in laboratory studies, general efficacy was found to be in the order of: slow release copper > amine > quaternary ammonium salt > dichlorophenol. The development of algal growths, as measured visually and by colour change using a chroma meter, was found to differ between different stone types in the order of Leoch < Locharbriggs < Corsehill < Cat Castle.
Initial application of biocide to the surface of the stones was noted to cause hydrophobic effects in the order of; slow release copper > amine-based > quaternary ammonium-based, with the dichlorophenol based biocide not appearing to have any hydrophobic effect on any of the stone samples.
Development of algal colonies could be related, in part, to differences in pore size of the various samples. Cat Castle supported the most algal growth, having large, highly visible pores and cavities which enable the stone to take up water relatively quickly and which aids rapid colonisation by algal cells. Leoch supported the least amount of growth, having extremely low porosity, with dry patches developing at the surface of the stone throughout the period of incubation. In terms of biocide efficacy, this is largely related to how the biocide will interact with the stone. Stones with higher porosity and large surface cavities may offer larger surface areas for biocide binding. Other factors include biological breakdown, evaporation and photochemical decay.
8. Field biocide efficacy evaluation
In field studies, samples were mounted onto a test rig and exposed to natural weathering conditions. A wide range of sandstones were used in this study: Blaxter, Cat Castle, Clashach, Corsehill, Leoch and Locharbriggs.
iocide-free, fresh samples of Blaxter, Cat Castle, Clashach, Corsehill and Locharbriggs sandstones showed algal growth after approximately 300 days exposure. No growth was observed on Leoch sandstone due to its low porosity and low moisture capacity. On fresh sandstone the order of abundance of algal growth was Locharbriggs > Blaxter > Cat Castle > Clashach > Corsehill > Leoch.
No correlation was found between surface roughness and amount of algal growth. On the test rig, the sandstone samples were inoculated with a solution containing known algal types isolated from field samples. This meant that the influence of surface roughness in controlling the settling of spores on the stone would be of negligible importance. On uninoculated surfaces, surface roughness may well be of importance with respect to the colonisation rate, however, where the surface already contains sufficient spores and propagules, the effect of roughness on algal colonisation rates, as seen here, appears to be negligible.
Two different HF acid-based cleaning chemicals methods were used in these experiments which varied in their content of phosphoric acid. After chemical cleaning, more algal growth was observed on samples treated with the chemicals with the high phosphate content. It seems likely that it was this higher phosphate content which may explain why more algae grew on some sandstones as phosphate is an important nutrient for algal growth and is normally in limited supply on a stone surface. This factor and the effects described below are explored in more detail within another research programme on factors controlling algal growth on sandstones.
Test rig samples were treated with three biocides: biocide 1 (quaternary ammonium), biocide 2 (amine) and biocide 3 (slow release copper). After one year's exposure algal growth had occurred on only a small number of samples. All of these were on the north-facing side of the test rig. Growth of algae had occurred on biocide 1 treated Cat Castle and Locharbriggs sandstones and on biocide 2 treated Blaxter and Cat Castle sandstone. It is possible that the earlier growth of algae on certain sandstones is related to the ability of the sandstone to retain the biocide. In sandstones biocide may be adsorbed onto clay and other silicate minerals. Clay minerals vary widely in their ability to adsorb chemicals and a variety of clays occur in these sandstones. Both Cat Castle and Blaxter sandstones contain clay minerals with a very low ability to absorb chemicals. Locharbriggs sandstone clays are better able to adsorb chemicals although there is only a relatively small amount of clay in the sandstone.
Biocide efficacy overall in the field experiments was found to be borate + quaternary ammonium > amine > slow release copper > quaternary ammonium > dichlorophenol. The longest lasting biocide was effective for at least one year, the shortest lasting for only about one month.
9. Biocide effects on sandstone
In laboratory studies, change of colour at the stone surface with application of biocide was measured on growth-free stone samples immediately after application and then again after 3 months incubation. No colour changes were recorded with dichlorophenol, amine or quaternary ammonium biocides but a slight initial colour change was observed on Cat Castle samples treated with slow release copper salt, which caused a slight change in colour towards green. When samples were measured again after 3 months incubation, the colour effect had disappeared.
In field studies the copper-based biocide also caused a measurable colour shift towards blue-green which was visually apparent on some lighter coloured sandstones. The colour decreased during exposure and was undetectable by eye within a few weeks of exposure. It was undetectable by chroma meter after 7 months. It is possible that there could be longer term colour changes if the biocide was regularly re-applied. The borate containing biocide may have caused an increase in yellow intensity immediately following biocide application however, this colour change lasted less than 20 days. A reddish colour imparted by the amine-based biocide lasted for approximately 3 months.
Biocide treated sandstone samples were found to release varying amounts of mineral cations when washed with artificial rain solution (pH 4.8) following 3 months incubation. The concentration of mineral elements in artificial rain wash-off water were different between biocide-treated inoculated and un-inoculated, growth-free samples. For Al, Si and Fe, concentrations were higher from un-inoculated stones compared to inoculated, the opposite was true for the elements of Mg, K and Ca which were higher in wash-off from inoculated samples compared to un-inoculated samples. This pattern was observed in all samples, whether biocide-free or biocide treated.
The pH of biocides may influence the release of mineral elements from the stone matrix, which in turn can lead to decay of the stone. Some have extremely high or low pH's and pH affects the dissolution rates of minerals.
10. References
United Kingdom Review Group on Acid Rain, 1990.
Acid Deposition in the United Kingdom 1986-1988, Dept. of the Environment and Dept. of Transport.
Return to Masonry Conservation Research Group
Return to Environments for People Research Centre