Bandodle House
Aberdeenshire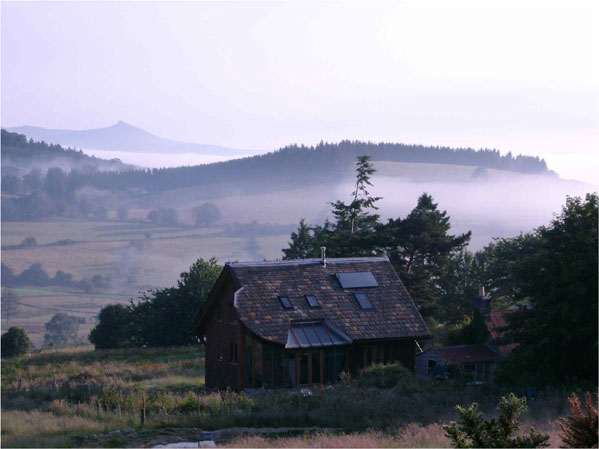 Hill of Bandodle
The site is at 220M near the top of a North facing slope with wonderful views to the North. This presented a challenge to the aim of minimising North widows and maximising solar gain.
Access is via a 2Km farm track leading from a single track road with little turning space at the site. After snow vehicles cannot reach the house.
The house replaces a 200 year old single storey croft house and is part of a larger scheme of managing 11.5 hectares of farmland to enhance biodiversity.
The principle aims of the project were to build a healthy comfortable home which left as low an ecological footprint as possible.
Locally sourced non-toxic materials, low energy both in use and embodied, easy to maintain and deconstruct, low wastage.
Lots of light.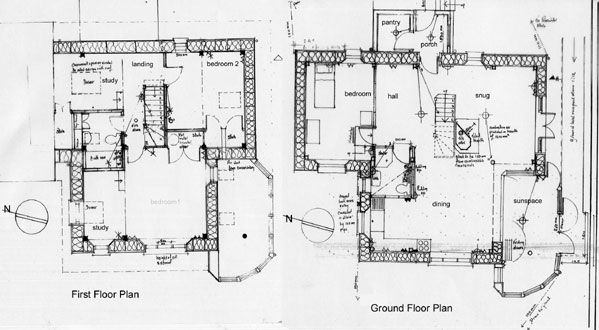 Layout
The sunspace to the south forms a thermal buffer in the winter, a heat source and spring and autumn sitting area when it is mostly still too cold or windy to eat outside. Entry is on sheltered East side with extra outside covered area to leave very muddy boots etc. (it is a farm).
Otherwise living areas to the south and west with the largest windows, kitchen and bathrooms to the North with smaller windows.
Heating via 4KW Masonry stove (a sort of wood fired storage heater)
Hot water via solar panel and masonry stove.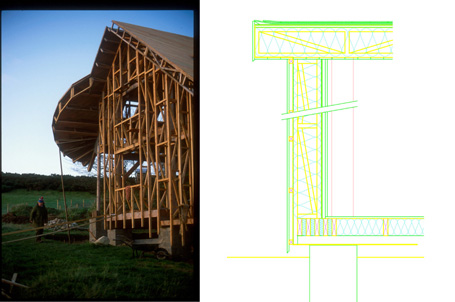 Structure
Larch post and beam sitting on concrete block piers, wrapped around this is an envelope of ladder truss wall frames and roof purlins. Trusses were constructed on site.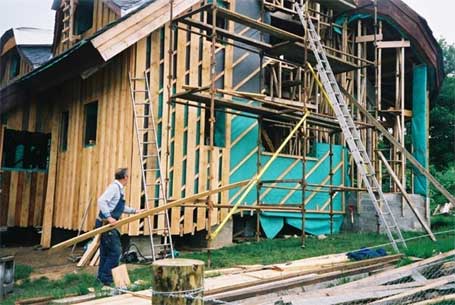 External finish
Board on board of larch fixed to diagonal battens over breather membrane. Diagonal battens give sheer resistance and allow ventilation and drainage to wall and cladding.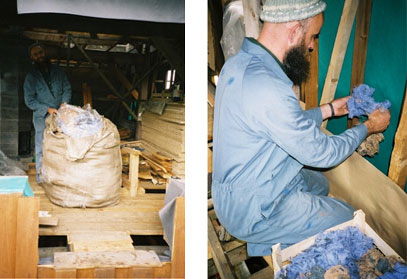 Insulation
Walls are filled with 350mm wool recycled from Johnsons of Elgin. It arrived densely packed and required fluffing and treating with Boron.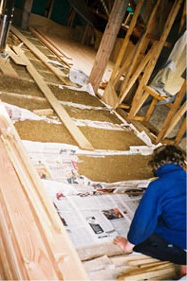 First floor
A layer of subsoil from the site forms sound deafening and gives some thermal weight.

Flashings and Cills
Stainless steel hand formed on site.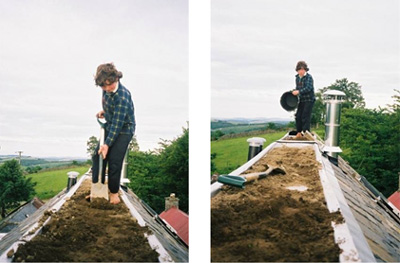 Flat Planted Ridge
This was a compromise with the planners when the original detail of a planted roof was replaced by Caithness 'slates'.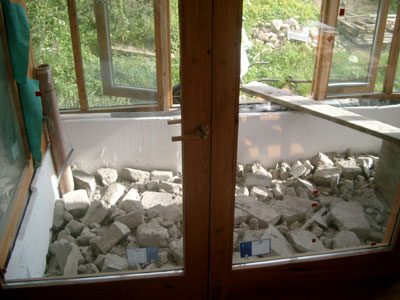 Sun Space heat store
Broken slates, bottles, tiles, concrete blocks from demolished kitchen and subsoil from site. At present being monitored for performance.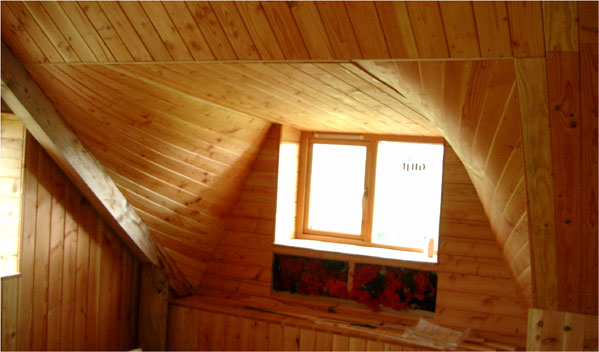 Dormer
Finished with 'clinker' Douglas fir linings. Insulation can be seen in wall.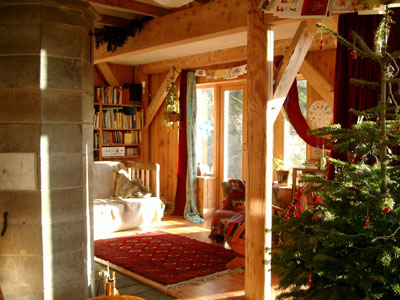 Living Room
Showing deep midwinter penetration of sun, pegged post and beam and masonry stove. Midsummer sun hardly penetrates due to large overhangs.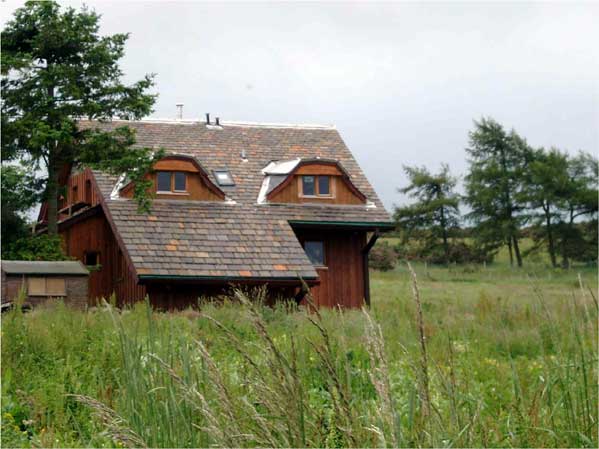 North Elevation
Caithness slates from Halkirk weathering to multicolour. Lichens will colonise over time. Gutters and down pipes are made from European Larch.