High Definition Scanner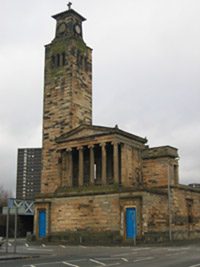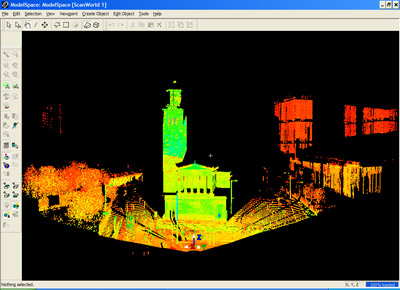 The School has recently purchased the HDS 3000 laser scanner on a research licence. With a high degree of accuracy, this product can render 'space' immediately and into a 3-d representation. As such, it has obvious benefits in the surveying field, both externally and internally, but also can be used for new build and existing.
Testing is ongoing as to what this tool can be used for within the department, with a current PhD project using it for detecting defects and deterioration of stone building facades, and the use of the equipment as a visualisation tool in the audit of historic buildings and open spaces. Investigation of this as an educational tool is ongoing.

PRODUCT INFORMATION ON HDS SCANNER
Leica HDS Series
The Leica HDS3000, the first "surveyor-friendly" 3D laser scanner, is the flagship of Leica's HDS product family, making high-definition field data capture more efficient and easier for a wider range of surveying and engineering projects. With the Leica HDS3000, high-definition surveying has never been easier and friendlier for surveyors and measurement professionals. For example, it supports standard surveying procedures, such as instrument setup over a known or assumed survey point, height-of-instrument measurement, and instrument orientation. These same features are also valuable for automated geo-referencing of captured data to local coordinate systems. The new QuickScan mode allows users to quickly and easily define the extents of the scanning scene by simply pushing a button on the scanner. Efficient battery swapping and improved weight/portability allows for even more flexible and friendlier field operations.
Just as significant as its ease-of-use, the HDS3000 takes the industry-leading accuracy (6mm at 50m) and versatility of its popular predecessor, the Cyrax® 2500, to the next level of productivity. It combines SmartScan Technology™ with a maximum 360° horizontal field-of-view and an equally impressive maximum 270° vertical FOV. In a nutshell, the Leica HDS3000 is a versatile, multi-purpose scanner that combines high efficiency with high accuracy for a broad range of civil engineering, plant and building projects

• Maximum 360° x 270° field-of-view
• Unique dual-window design
• Fully selectable field-of-view and scan density
• Bore-sighted digital camera for automatically calibrated photo overlays
• <6 mm spot size @ 50 m
• 6 mm positional accuracy @ 50 m
• Height-of-instrument (H.I.) measurement
• Setup over survey point
• Flexible "hot-swap" power supply system
• QuickScan™ button

The Leica HDS2500 is a re-branded Cyrax 2500 scanner, the world's most popular scanner to date. The HDS2500 has a maximum 40° x 40° field-of-view and SmartScan Technology™- for added scanning control - to let users create highly accurate deliverables while minimizing both field time and office processing time for a wide range of applications & project sites.
With a single-point range accuracy of +/- 4mm, angular accuracies of +/- 60 micro-radians, and a beam spot size of only 6mm from 0-50m range, the HDS2500 delivers survey-grade accuracy while providing a versatile platform for data capture. Its 360° x 195° pan & tilt mount and dual internal rotating mirrors enable it to be deployed in virtually any orientation. The combination of high accuracy and field versatility makes the HDS2500 ideal for fixed or raised installation when leveled tripod mounting is not practical, or for applications with less stringent field-of-view requirements.

Return to Practice and Consultancy at the Scott Sutherland School of Architecture and Built Environment