Cost effective salvage and re-use of granite
This research report was supported by funding from Aberdeenshire Council. Thanks are due to both Aberdeenshire and Aberdeen City Councils for providing access to their information on this area.
Summary of conclusions
Policies being advocated by Aberdeen and Aberdeenshire Councils are creating a higher demand for granite. All those interviewed supported the use of granite, and most architects felt its use in Aberdeenshire and the city was important, but many respondents felt that to further encourage its use the council should provide more financial support. It is noted that Aberdeen City Council is aware of the additional costs in using granite and can provide some assistance with grants from the City Conservation Fund.
The European Community has recently brought in legislation (through Directives 75/442/EEC and 91/156/EEC), which will put pressure on the construction industry to increase the volume of materials being reclaimed. Every local authority in the UK is now required to have a 'recycling plan'. These results show that there is considerable willingness within the local industry to use reclaimed materials.
In previous years Aberdeen City Council has noted the declining use of granite in the city; granite being recognised as a very important part of its identity and heritage. As part of their development plan the council have highlighted the significance of "protecting what is of value in the existing built environment and ensuring that new development adds to the quality and character of this environment" (Aberdeen City Development Plan, 1999). The plan will hopefully encourage the retention of granite buildings and make it increasingly difficult to gain permission for demolition or part removal of granite buildings in the area. This will encourage the resurgence in the use of granite, leaving the question of locating suitable supplies to meet this demand.
The lack of skilled craftsmen was often commented on. The previous decline in the industry resulted in the loss of many skills. Modern machinery and working practices for other materials do not demand the high skill levels of masons working in granite. The high costs associated with using stone have resulted in highly competitive pricing in the industry which leaves little margin for training apprentices in stone working skills.
From results of the questionnaire sent out to architects it is apparent that many architects are involved with refurbishment and the restoration of buildings, many likely to have been implemented as a result of council plans. When asked about sourcing of granite, architects were found to have three main sources. The most commonly used stone material was reclaimed local granite, perceived as having benefits in environmental terms and in respecting local traditions. However many architects noted that re-used granite was becoming increasingly difficult to find. Particular problems related to sourcing cills and lintels (demolition contractors were also aware of high demand for this stone type), and also to obtaining large volumes of matching stone. There are currently over 4600 listed buildings in Aberdeen and surrounding areas, as well as buildings in conservation areas or those buildings in environmentally important areas, which are constructed in stone. These are building which often require salvaged stone to stay in keeping with their surroundings. The other options available to architects are to specify new granite, sourcing this from the few remaining local quarries or, more commonly, from imported stone. The cost factor was the main reason for architects choosing imported stone in the majority of cases.
During the 20th century the local granite industry largely collapsed, forcing all but two quarries to close. This has significantly reduced the variety of colours available, the volume of stone, lead-in time for delivery to site and most notably has resulted in increased costs. The only feasible alternative open to architects is to import stone. This provides them with a larger variety of colours, the potential to use large volumes of granite and a shorter lead-time (due to the volumes being extracted). However, the most important difference is that imported stone is able to under-cut the price of local stone. With the increasing cost of local stone, imported stone has allowed local architects to continued specifying granite which they would otherwise been unable to afford. Architects are not simply specifying imported granite because of its price; performance, appearance and availability are also important considerations. Often imported stone is seen as the only option to obtain the required size and quality of stone. Contractors are pricing projects based on imported stone, as the quality and colours can match what has been specified.
It is not just in Aberdeen that there is an increasing volume of stone being imported; the UK is increasingly becoming an importer of stone. The local stone industry has to compete against cheap labour, subsidies by various governments and (because of the relatively few companies in the UK and their size) the lead-time that foreign companies can offer is much shorter .
Aberdeen is known world wide for its granite industry and buildings, and architects would generally prefer to use local materials. However, there is unlikely to be a significantly increased supply of locally produced new granite in the immediate future. Local producers will continue to have difficulty in competing with imported stone manufacturers as the costs of production increase with tightening controls on the industry from Europe and the UK. Increasing imports have a severe effect on the local industry. Staggered production methods will increasingly be adopted as quarries are unable to spread costs which must then be passed on to the client. Decline in the industry has also led to training being cut so that producers can survive. This makes it more difficult to compete with imported industry and vital local skills are being lost.
Utilisation of re-used granite will only increase if pricing is such that the material is attractive in comparison to alternatives, supplies (especially of larger structural members) can be assured and if the image of re-used stone can be improved so that it is perceived as a quality material.
The demand for stone is growing, not only because of current regulations for conservation work, but because stone is increasingly being recognised as an attractive material for construction with its ease of maintenance, aesthetic appearance, strength and durability. This new demand could be met by Scottish quarries but there are difficulties with limited sizes of stone and in obtaining large amounts of decorative granite, which currently leaves little alternative but to import stone.
New styles and construction methods do not suit the current state of the stone industry. Lightweight, easily constructed, highly insulated buildings are more popular today. The largest market for stone is existing building stock, for which stone is essential. The quality of imported stone may be equivalent to that of local materials, but it is arguably not in keeping with an area's identity and built heritage. Should architects be taking time to source the 'correct' stone, rather than taking the easy option and using imported stone? It might be argued that ideally, for restoration and refurbishment work, the same material should be specified, but this is not always possible as locating the correct materials is becoming increasingly difficult.
The construction industry is increasingly ruled by cost. Although local architects were in favour of using granite, cost was the main deterrent to its use. One of the biggest rivals to both new and re-used stone is reconstituted stone, which although not the first choice of architects, is often the affordable alternative. When there was no substitute for granite it was mainly re-used stone, which was being specified, not for environmental reasons, but because of cost. When new stone was being specified, the cheapest available was used, which was generally imported stone. Little regard appears to be given to the effect that this has on the local economy or the future of its built heritage. However, local quarries are not always able to provide the required material and using an imported stone is perhaps better than specifying alternative materials.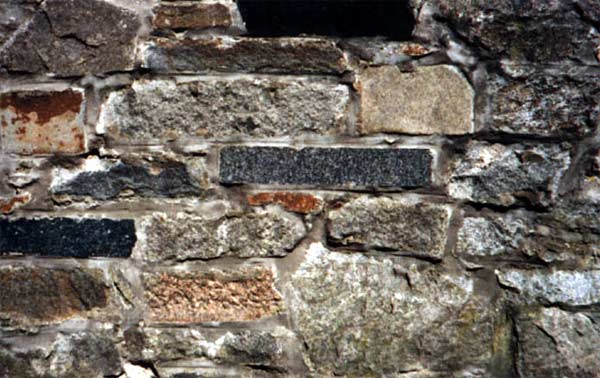 Reused granite incorporated in a boundary wall
Return to Masonry Conservation Research Group
Return to Environments for People Research Centre