Causes and remediation of deterioration on granite building stone
Although it is a strong and durable building stone, granite is not immune from decay, suffering cumulative damage through flaking and granular disintegration. Although individual losses are superficial, when repeated over a number of cycles the aesthetic and functional degradation of granite building stone can be severe. Significant loss of sharpness on carved details and loss of smooth finish are detrimental to the appearance of buildings.
Deterioration of granite building stone is becoming particularly noticeable in Aberdeen city centre and can also be observed on granites from elsewhere in the UK. Aberdeen City Council has designated an Air Quality Management Area (AQMA) in a number of city centre streets due to exceedances of air quality standards with respect to nitrous oxides. Visual inspection reveals an apparent association between the degree of decay and traffic volumes, implying that vehicle pollution may be implicated in both poor air quality and stone deterioration.
Other potential causes of stone decay include sea salts, stone cleaning after effects, biodeterioration and other forms of air pollution. Forms and degrees of stone decay may also be affected by the mineralogical and physical characteristics of the stone, by the surface finish and by construction methods (e.g. mortar type). This proposal aims to identify the cause/s of deterioration of granite building stone and to determine potential measures for its remediation.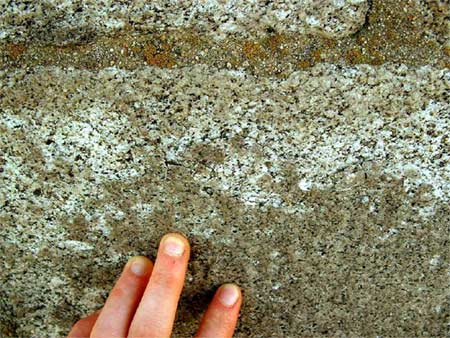 Flaking of the surface of granite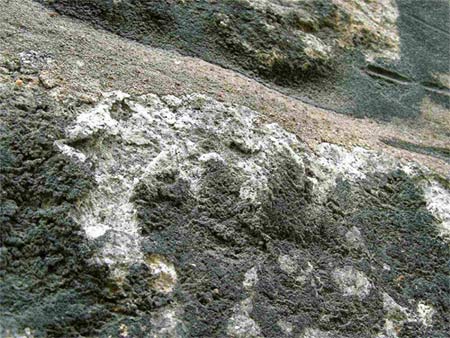 Blistering of granite caused by formation of black gypsum crust
Return to Masonry Conservation Research Group
Return to Environments for People Research Centre