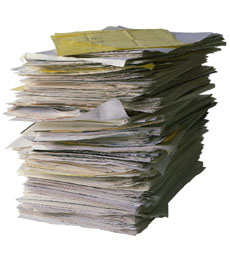 Master Retention Schedule (MaRS)
What is the MaRS?
The RGU: Master Retention Schedule (MaRS) is an essential element of the University's Records Management Strategy. It is a control document which sets out the recommended mimimum amount of time that the University needs to keep its records. The MaRS applies to all records irrespective of the format in which they are maintained or the media upon which they are held, for example records held on paper; electronically including emails and databases; on microfilm and on any other storage media.
Developing the MaRS
The MaRS is based on a model (2008), which was produced by the Joint Information Systems Committee (JISC). JISC carried out comprehensive and extensive research in order to produce this records retention model. For example, they consulted with Scottish legal experts and various licensing and professional bodies.
The JISC model has been widely adopted throughout the UK Higher Education Sector, with schedules being tailored to meet specific needs of each Higher Education Institution.
Since the end of 2007, the Records Management Department has been liaising with the Records Management Network and other key members of staff to look at the JISC model in order to ensure that RGU's Master Retention Schedule meets the University's own record-keeping requirements.
Putting the MaRS into practice
The MaRS is a guideline and no decision should be made based on it without first checking with heads of departments.
The MaRS should be used by individual Schools and Departments to develop or reinforce their own specific record-keeping procedures.
It is the responsibility of each School and Department to take note of this new guideline and to implement the MaRS into their own management of their records.
The MaRS does not prevent staff from keeping records for a longer period of time if they wish to do this. The retention periods of some records will be dictated by external guidelines, sponsoring authorities or other internal RGU guidelines, and staff should continue to follow these particular guidelines and requirements.
Please do not hestitate to contact the Records Management Team (recordsmanagement at rgu.ac.uk) if you would like help in applying the MaRS to your record-keeping procedures.

Examples on how to use the Master Retention Schedule

Records which may be routinely destroyed
---
---

Index by Record Type
The following is the final version of the MaRS as of November 2008, except for the Research, Project Management and School or Department Office(s) Administration sections, as staff are still reviewing these sections.

Introduction

0. General (RGU Strategies, Policies and Procedures)

1. Teaching

2. Research (approved by RKTC and uploaded May 09)

3.Student AdministrationRevised20122711

4. Student Service Managementfinalversion220122711.pdf

5. Related Companies Management

6. Commercial Service Management

7. Retail Trading Management

8. Public Relations Management

9. Media Relations Management

10. HE Sector Relations Management
---
---

11. Local Community Relations Management

12. Alumni Relations Management

13. Fundraising

14. Publishing

15. Strategic Planning and Performance Management

16. Governance

17. Risk Management

18. Quality Management

19. Audit

20. Legal Affairs Management
---
---

21. Government Relations Management

22. HE Regulator Relations Management

23. Student Association Relations Management

24. Organisational Development

25. Health and Safety Management

26. Environmental Management

27. Estates Management

28. Finance Management

29. Human Resources Management

30. Information Resources Management
---
---

31. Intellectual Property Management

32. ICT Systems Management

33. Equipment and Consumables Management

34. Insurance Management

35. Procurement 2012

36. Internal Service Management

37. School or Department Office(s) Administration

38. Project Management
---
---
Last updated: 11.10.11(KF)