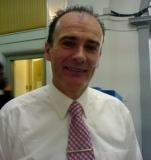 Keith G Fraser
University Records Manager
Tel: +44(0)1224 262882
Fax: +44 (0)1224 262797
Email: k.fraser at rgu.ac.uk
---
Keith has spent a large part of the last three decades in, and around the environs of Robert Gordon's. Hailing originally from Buckie he led a peripatetic life in the banking industry for several years in the late seventies. In 1979 he left the bank's employ to undertake a Bachelor of Arts degree in Librarianship at the then, RGIT. This was followed by study for a postgraduate Diploma in Management Studies. After some 5 years in Local government working for Lothian Regional Council, he joined the staff at the Library service of RGIT in November 1990 as a Chartered Librarian. In 2006 he was appointed to the post of University's Records Manager & Information Compliance Officer, a role that combines strategic, operational management and legislative activities.
Keith is an elected member of the Council of the Chartered Institute of Library and Information Professionals in Scotland and a member of the Information and Records Management Society of Great Britain. He is also a Burgess of the City of Aberdeen.
---
Records Management Responsibilities
As well as having responsibility for the key function of Records management within RGU Keith also ensures that the institution complies fully with its statutory obligations under the Freedom of Information (Scotland) Act 2002 and the Data Protection Act 1998.
---
Priorities
Keith's main priorities in the post are, to oversee the execution of the University's Records Management strategy, working in close partnership with a number of major stakeholders. He has overseen the implementation of a number of key initiatives such as; the publishing of a comprehensive Retention schedule, and Filing scheme, as well as the implementation of Electronic Document and Records Management solutions.
Keith believes that the information held by the University is one of its greatest possessions. "It is part of my remit to ensure that the University recognises the true value of this asset, and that it fully meets its legal obligations by making sure that its records are managed efficiently, and effectively, whatever their format. The implementation of Electronic Document Management solutions through the use of SharePoint should greatly help with this."
---
Outreach Activities
Keith is always happy to attend meetings across the University to give help and advice. He is also available as a Guest speaker to the Schools where has he can provide presentations on the various aspects of Records Management, such as Freedom of Information and Data Protection compliance.
He can be contacted on 262882 or by Email at k.fraser at rgu.ac.uk.

Last updated 12.09.12 KGF