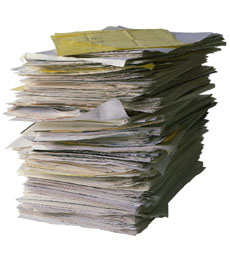 Information Audit (Survey)
"A Records, or Information Audit is, a process undertaken to identify an organisation's information needs and assets, the way the needs are met, how the assets are created and how they are managed and used". Angela Abell, TFPL
An Information Audit or Survey should cover all types of media - paper, microform, optical and electronic.
---
Aims of an Information Audit
To establish what type of Information Asset exist, and how they are used?
To analyse what Information Assets are required. To identify which practices work well at present, and whether or not there are any associated issues.
To establish what improvements could be made. This could relate to the retention of items, or to their security and protection.
To help facilitate a systematic and disciplined approach to Information Asset Management throughout the Organisation. The University's Master Retention Schedule (MaRS) will help to capture this, and assist in future decision making with regard to Records Management across the University.
Further information about the retention of Information Assets can be found by clicking below.
---
Objectives of an Information Audit
The specific objectives of a Records/Information audit might be to answer the following questions :
What forms of Information Asset (records) are held?
How many of each type are there ?
Where are the Assets located ?
How much space do they take up ?
What is the purpose and function of the Information Assets ?
How old are they, and how long are they retained ?
How often are the Assets used, and by whom ?
How are they stored, and how are they retrieved ?
How many duplicate Assets exist ?
---
Further information about the Auditing and Disposal of Information Assets can be found by clicking on the link below.
Last updated 16.06.09(KGF)