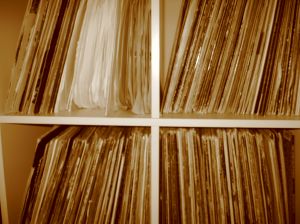 Information Asset Audit and Disposal
It is essential that the University's records are managed in a strictly auditable manner. Please use the following forms (as appropriate) for processes undertaken.
Information Audit
When listing records held in your School or Department please complete an Information (Records) audit form. One per records series.

Records Audit Form
To help fill in the Information audit form, please refer to the accompanying guidance note.


Records Audit Guidance
---
Information Asset disposal
If you are destroying records that have been approved for destruction, please complete the Disposal Form below.
Once the Form has been signed by the Head of School or Department (or substitute), please send it to the University Records Manager, Keith Fraser.
Thereafter, the records should be destroyed. Do not wait for approval from Keith.
If the records contain private or confidential information, please destroy the records using either a Cross-cut shredder or via the University's Confidential waste uplift service.
For further guidance about any of the above, including guidance about Shredders, please contact the Records Management Department: recordsmanagementatrgu.ac.uk.

Records Disposal Form

Records Disposal Form Guidance
Last updated 20.08.09(KGF)