News In Brief
October 2007
---
ABS Hosts Summer School for German Students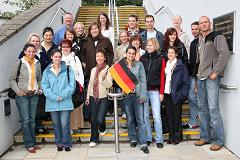 A group of students from Germany attended a week-long summer school at ABS in August as part of an exchange programme with partner institution, FH Mainz University of Applied Sciences.
The aim of the summer school was to enable the participants to further develop their English language communication and presentation skills, and also to experience Scotland first-hand.
The majority of the 22 participants work full-time in a range of industries including banking and insurance, pharmaceuticals, automobile manufacture and distribution and tourism, while also attending evening lectures and seminars on a part-time undergraduate business degree programme in Mainz.
The summer school was designed and co-ordinated by Dr Murray Hill, ABS and Dr Helen Bicknell, Business Lecturer for English at the FH Mainz. Ulrike Plasberg, ABS, was also involved in delivering the programme. A programme of visits to companies including KCA Deutag and Johnston's of Elgin was organised by ABS European Officer Fiona Jardine, and company materials were integrated into the programme of intensive language training.
Students were coached in delivery techniques before making presentations on their own companies, and additional guest lectures on topics including Scottish politics, tourism and culture were delivered by ABS experts Dr Peter McLaverty, Andrew Martin and Richard Barnes.
A simulated business meeting on the final day generated very positive student feedback and a farewell dinner for students and staff was held at The Square to celebrate the successful venture.
Vielen Dank ABS!
---
Nigerian Alumni Evening Hailed a Success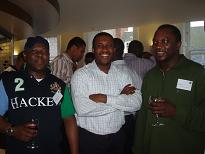 On 23 August, RGU hosted a Nigerian Alumni Evening to celebrate the achievements of our ever growing group of Nigerian graduates.
The University has been working in West Africa for over five years and has 350 Nigerian students studying at the University as well as over 500 Nigerian graduates, 300 of whom are working in the UK.
Gavin Douglas, Director of Student Recruitment spoke to the guests about the recent developments at the University and the important role that international alumni can play. Gavin said, "Our Nigerian alumni are brilliant ambassadors for RGU and have gone on to achieve great success in a wide range of sectors including; energy, pharmaceuticals, nursing, information technology and finance. They can play a key role in welcoming our new cohort of African students to Scotland and can have a lasting impact on their education by using their knowledge to mentor students through their academic year."
Over 40 alumni attended the evening along with staff from the University and Univation.
If you would like information on future alumni events please email: alumni@rgu.ac.uk.
---
RGU Showcases Training Opportunities at Offshore Europe
RGU had a strong presence again at this 'Centre from 3–7 September. The stand included representation from its highly successful commercial arm Univation, which delivers a range of corporate bespoke accredited training, and the RGU: Energy Centre, which delivers a diverse portfolio of postgraduate courses to individuals. RGU also hosted an alumni reception at the AECC, on Wednesday 5 September, with alumni from all over the world in attendance.
---
Tea and Nostalgia for Retired RGU Engineering Staff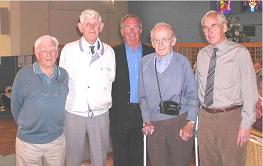 Five retired long-serving members of staff recently met up to reminisce about old times at what was the School of Mechanical Engineering. Bert Hosie, Bill Miller, Alex Urquhart, Walter Ogston and Atholl Falconer spent an enjoyable afternoon discussing the huge developments they had seen since joining RGU in the 1950s and 60s, through its transition from a Technical College to an Institute of Technology and then a University.
One of the group, Walter Ogston, has a real link to the history of mechanical engineering, as it is alleged he is the last living member of Frank Whittle's team who designed and built the jet engine!
---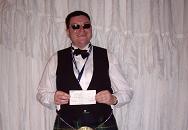 Poster Success for Morgan
Morgan Adams from CRE+E was awarded 2nd place and £200 prize money in the European Commission student poster competition at the Oceans '07 Conference in Aberdeen earlier this year. His poster was on his work on 'novel tracers for environmental applications', which was also presented in a paper by the same title.
---
Engineering Graduate Becomes UK's Ironman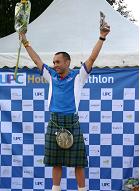 RGU mechanical engineering graduate, Scott Neyedli, is not one to do things by halves. The Aberdonian triathlete broke not just one, or even two, but three records at the Ironman UK competition in Sherborne Castle, Dorset on Sunday 19 August. Not content with becoming the first Scot to win the competition, he was also first Brit, and in the process he set a new course record of 8 hours: 35 minutes: 52 seconds.
Winning an Ironman competition on home soil in his first season afforded Scott ample reward for postponing his engineering career and undertaking months of gruelling training and self-sacrifice.
Scott is supported by RGU: SPORT, who provide him with free membership.
---
TV Licensing, Students and the Law
Your parents' TV licence will not cover you away from home. Anyone without a valid TV licence who watches or records television programmes on any channel (including terrestrial, satellite, cable or digital television channels) as they are being broadcast in the UK risks prosecution and a fine of up to £1000.
To find out about the many ways you can pay for your TV licence, including the ease of paying by Direct Debit, and refund arrangements call 0870 242 1417 or visit:
---
Drawing From Digs: The Archaeological Illustrations of Jan Dunbar

A selection of work by Gray's graduate and Aberdeen City Council Archaeological Illustrator Jan Dunbar, is currently on display at the Georgina Scott Sutherland Library.
Jan's drawings are displayed alongside original artefacts from sites around Aberdeen. Shown with preparatory drawings, photographs and finished publications, they offer a glimpse into this fascinating and unusual career.
The exhibition has been organised by the Library's University Collections team in collaboration with the Aberdeen City Council Archaeology Unit.