January 2006
---
Scott Sutherland lecturer awarded architectural honour
RGU's BSc (Hons) Architectural Technology course leader, Graham Paterson, was among five leading UK construction industry professionals, including George Ferguson, past president of the Royal Institute of British Architects and Stuart Henderson, chairman of the Construction Industry Council, who were recently awarded honorary membership of the Chartered Institute of Architectural Technologists (CIAT).
This prestigious accolade rounds off a very successful year for the architectural technology department at RGU. In April 2005, a team of Honours students picked up the award for best student project out of the 27 CIAT accredited undergraduate AT courses in the UK.
Graham said, "These awards are a measure of the course team's dedication to developing and running the architectural technology programme to the point where RGU's course is recognised by CIAT as among the most forward thinking in the UK."
He added, "CIAT have clearly acknowledged that two key elements underpinning our course rationale, namely links between undergraduate teaching and research, and taking a pan European perspective, are fundamental to driving the architectural technology profession forward."
---
Gray's graduates explore space, time and invisible energies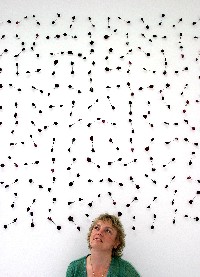 Four graduates from Gray's School of Art recently exhibited their work at the prestigious Graduate Contours II exhibition held at the East Kilbride Arts Centre.
Graduate Contours II brought together the work of recent visual arts graduates in Scotland and examined 'kinetic art' – art that explores motion, space and time, and invisible energies.
Visitors had the opportunity to set in motion or view 'captured' movement of objects, and experience art from the Gray's graduates in new ways typically not associated with gallery installation, including: the delicate organic clocks of Debbi Beeson; the extended stop capture motion of Graham Robertson; the unpredictable movements of Christine Hilditch's minimalist sculptural works; and performances from David MacRaild which questioned a mechanical world.
---
Renowned architects and eminent academic lecture at RGU
The Scott Sutherland School launched its high profile Lecture Series with an inaugural lecture by renowned architect Eric Parry and eminent academic Professor Robert Maxwell, Emeritus Professor of Architecture from Princeton University, on Thursday 1 December.
Eric Parry studied architecture at the University of Newcastle, the Royal College of Art and the Architectural Association. Before establishing his practice in 1983, he was a lecturer in architecture at the University of Cambridge, while his early projects were exhibited at the 9H Gallery, London and the Graduate School of Design, Harvard.
The lecture was sponsored by architects Mackie Ramsay Taylor (MRT) who were the lead architects in many high profile projects including Aberdeen Exhibition and Conference Centre and Royal Aberdeen Children's Hospital. Mike Tastard, senior partner at MRT and graduate of the Scott Sutherland School said, "Aberdeen has a plethora of local talent and it is imperative that we nurture our students and architects of tomorrow with as much varied and innovative knowledge as possible."
The lecture began with an introductory talk with images of recent buildings by Parry, which was followed by a discussion of his work by author and critic, Professor Maxwell.
The Lecture Series continued on December 8 with a presentation by the talented Swiss practice Christ and Ganterbein. Emanuel Christ runs the ETH Studio, Basel. Emanuel presented five of the current projects he is working on in partnership with Christoph Gantenbein: the Swiss National Museum, a House extended, a House in a Courtyard, a Housing Building in Basel and an Architectural Sculpture in China.
The lecture series, which is being delivered as part of a celebration of 17 years of '5710' – The Scott Sutherland Architectural Students' Association, sees weekly lectures taking place on Thursday evenings until May 2006. Students have the opportunity to take part in workshops with the weekly speakers, and members of the public are invited to each Thursday lecture at 5pm at The Scott Sutherland School.
---
Climbers celebrate honorary graduate's life in charity event
On 20 November, RGU: Sport was the venue for an exciting climbing event which celebrated the life of Dr Rob Milne, and raised funds for local charity Transition. The charity aims to build an extreme sports centre and community recreation facility for Aberdeen.
Organised in partnership with RGU: Sport and local climbing clubs, this innovative event pitted seven teams of climbers against each other on the state-of-the-art RGU: Sport climbing wall. Each individual was sponsored in their attempt to climb the equivalent of Ben Nevis (1,344m), while the combined total of all participants was expected to exceed the height of Mount Everest (8,848m).
Filippo Antoniazzi, Director of RGU: Sport said, "We were pleased to co-operate with Transition in staging this event and helping them in their efforts to bring another first class sports and community facility to Aberdeen.
He went on to say, "We are also extremely proud to take the opportunity to celebrate the life of Rob Milne, who died on Mount Everest in June. Rob would certainly have welcomed the efforts of Transition and RGU to provide world class indoor climbing facilities for the North East of Scotland and to widen the appeal of climbing. It is particularly appropriate that we should mark his achievements at this major climbing event, with many of his fellow climbers and friends in attendance, raising money for the continued development of climbing in Scotland."
---
Distance learning law courses achieve accreditation
The MSc / LLM course in Construction Law and Arbitration by distance (online) learning at Aberdeen Business School has recently been accredited by the Royal Institute of Chartered Surveyors (RICS).
The accreditation now covers all available delivery modes, namely part-time and online. Students who graduate with one of these qualifications will meet the academic requirements for Chartered membership of the RICS and are eligible to enrol on the RICS Assessment of Professional Competence (APC).
This development extends the accreditation status of this course, which is already recognised by the Chartered Institute of Arbitrators.
---
Award-winning lecturer researches best practice
An academic at RGU, who was awarded the Winston Churchill Memorial Trust Travelling Fellowship for 2005, has visited a number of universities and organisations in Europe, in order to bring back direct experience of their best practice to RGU.
Dr Winifred Eboh, Lecturer in the School of Nursing and Midwifery, received £4,500 to spend five weeks travelling to specific universities in Europe to see at first hand how they are using blended methods in teaching research skills. Blended learning combines aspects of technological and traditional teaching methods, including face-to-face lectures, online teaching and group projects. It is argued that, when delivered in the correct combination, blended learning can achieve learning results far beyond what is possible with one teaching method.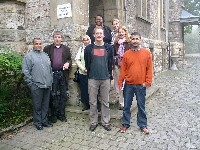 Dr Eboh visited partners of an European funded project entitled 'el3', which offers blended learning approaches in education, healthcare and commercial organisations, beginning with Professor Haller, who is based at the Pedagogic Seminar in the University of Goettingen in Germany. His work includes extensive research into didactics, and the support of undergraduate and doctoral students engaged in various blended learning projects including learning styles with musical instruments, and the use of video graphic materials in intercultural training. Also in Goettingen, Dr Eboh met with Tim Scholze at BUPNET, a partner of el3 which has developed a website for e-learning materials available in different languages.
The next two meetings, in France, enabled Dr Eboh to witness blended-learning in practice. Her first stop was at the Institut Paoli Calmettes in Marseille, which provides excellent online training for nursing, medical and administrative staff caring for people with cancer. In Bordeaux Dr Eboh observed a project at INSUP, an organisation that develops blended learning for disadvantaged groups.
---
Grant facilitates collaboration in medical education
Dr Lesley Diack, Lecturer in Elearning in the School of Pharmacy, has been awarded a grant of £5000 by the Pharmacy Practice Research Trust.
The grant will enable Dr Diack to carry out an innovative pilot project to develop interprofessional education between medical and pharmacy students, particularly during placements, from both RGU and the University of Aberdeen.
Dr Diack remarked, "I feel that receiving this award is especially significant as it recognises the contribution that RGU and the University of Aberdeen are making to the development of successful interprofessional education."
---
Keith Maguire award in honour of local lecturer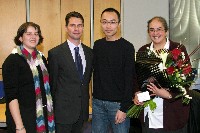 RGU presented Fei Chen with the fourth annual Dr Keith Maguire Bursary on Wednesday 23 November. Mr. Chen, from Hebei, China, was selected as the recipient of the bursary on the basis that he is particularly well-suited to study and would benefit from the LLM/MSc International Trade postgraduate course. The £1000 bursary will assist with the cost of his studies.
The Dr Keith Maguire Bursary was set up in memory of Dr Maguire, a Senior Lecturer who had been with RGU for over 12 years. Dr Maguire founded the International Trade course in 1996. He sadly passed away in the summer of 2000.
Dr Paul Arnell, Senior Lecturer and Programme Director said, "It is fitting that the award has been made to a student of Asian decent because Dr Maguire had such a keen research interest in that region. It was also very pleasing that Anita Maguire and her daughter Eleanor were able to attend the presentation."
---
New Skills Screening Tool for the Food and Drink Industry
Many businesses in the food and drink industry are failing to reach their full potential because of skills gaps in their work force. However, a skills screening tool being developed by RGU aims to address this problem by helping companies pinpoint capability gaps in their workforce and map appropriate training in line with up-to-date legislation on food hygiene and health and safety. The tool will be piloted across Scotland in summer 2006.
Cathy Harris from RGU's Centre for the Enhancement of Learning and Teaching explained "RGU is inviting companies from all sectors of the food and drink industry to contribute to the development of question banks on which the tool will be based. This will ensure that the final assessment tool kit is directly aligned with the specific needs of their own sector. Without a skilled workforce, Scotland's businesses cannot grow to their full potential, so we hope companies across Scotland will take full advantage of this opportunity."
The initiative has been made possible with support from the European Social Fund.
---
ABS Professor receives Distinguished Service Award
Alan Sangster, Professor of Accountancy at Aberdeen Business School, has recently received the Distinguished Service Award from the Artificial Intelligence/Emerging Technologies Section of the American Accounting Association.

The Artificial Intelligence/Emerging Technologies Section of the American Accounting Association has over 400 members and has been in existence since 1993. In the 13 years since it was founded, only two other similar awards have been made, and those were to the two founders of the section. Professor Sangster was one of the 200 founding members of the section, section chair in 1999/2000, and is one of only three people to have been on the section organising committee since its inception.
The award was in recognition of Professor Sangster's efforts to broaden the interests of the section, maintain its membership, and promote it in Europe, as well as for the guidance and leadership he has provided to the section.

The American Accounting Association is the worldwide body representing accounting and finance academics.

Professor Sangster said, "This is a very prestigious award which reflects well, not only on myself, but also upon Aberdeen Business School and upon the University as a whole."
---
Gray's graduate weaves success in fashion world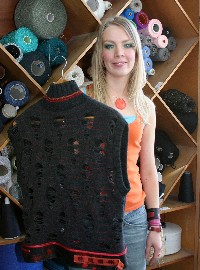 Knitting is hardly ever viewed as challenging or cutting edge. However, 29 year old Gray's graduate, Jenny McHardy, is doing her best to alter these perceptions.

Jenny, who is currently studying at the Royal College of Art in London, is putting the edge into knitting with a range of garments intended to intimidate. She graduated in Textiles and Surface Design from Gray's School of Art last summer when she focused on the themes of danger, protection and fragility.
"I looked into the topic broadly at first," she explains. "However I quickly decided that man-made danger in the urban environment was the most interesting area to study in depth." As a contrast she then researched themes of fragility and protection.

Jenny works in hand and machine knit, along with traditional and digital print. Her collection of one-off pieces is strongly influenced by the fashion of the punk era. Jenny hopes to work in fashion when she completes her studies.
---
SCot launches tourism forum
Scotland's economy, and in particular, the country's tourism industry, has often been criticised as lacking in entrepreneurial spirit, competitiveness and the existence of an enterprise culture.
However, the Department of Trade and Industry (DTI) has identified entrepreneurship and innovation as being characteristics which are vital to boosting the economy and promoting growth.
In order to make a positive contribution to rejuvenating Scotland's economy, the Scottish Centre of Tourism (SCoT) is to launch an interactive online community in February 2006, which will provide an environment for entrepreneurs to talk, network, learn, engage and share experiences in the sector.
SCoT was awarded £240,851 funding by the European Social Fund (ESF) to help raise awareness of enterprise culture and entrepreneurship within tourism. Tourism is a crucial industry for investment given its contribution to the economy, injecting circa £4.4 billion annually and supporting approximately 9% of the workforce within Scotland.
Willie Macleod, Director for Visitor Services and Quality, VisitScotland and a member of the project steering group, said, "Any forum that discusses and strengthens entrepreneurship, enterprise levels and competitiveness is fully supported by VisitScotland."
---
Midwifery in Brisbane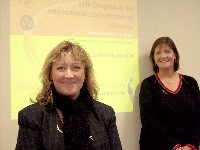 Two lecturers in midwifery from the School of Nursing and Midwifery, Anne Marie Rennie and Susan Gibb, recently visited The Royal Society of Medicine in London to collect education bursaries from the Iolanthe Midwifery Trust.
These bursaries, combined with financial support from RGU, and an award from the British Academy, made it possible for them to attend the International Confederation of Midwives event in Brisbane, Australia, during July 2005.
Midwives from the world over attended the conference, at which Anne Marie presented her MSc thesis 'Midwives' views of models of midwifery using focus groups' and Susan presented an aspect of her PhD thesis. The RGU lecturers also heard from colleagues about their experiences around the world. Topics included the high maternal mortality rate in Afghanistan, and the pressing need to train more midwives in developing countries.
Anne Marie said "Attending the conference will make an invaluable contribution to the educational experience offered to midwifery students at RGU. Our programme of research actively contributes to education, and is firmly rooted in practice at local, national and international levels. Collaboration and profiling midwifery in an international setting like this, were key issues in taking our research forward."
Anne Marie and Susan also organised an Australian evening on 18 November to disseminate their educational experiences to student midwives currently studying at RGU, and midwifery colleagues in education and practice. During the evening they raised awareness of the plight of colleagues in developing nations.
---
Nuclear Power: Do we need it?
RGU hosted a topical debate, run by The Royal Society of Chemistry (RSC) in partnership with the British Association for the Advancement of Science (BA), on the future of energy, on Wednesday 9 November.
The debate, held in conjunction with Chemistry Week, was introduced by Professor Peter Robertson, Chairman of the Aberdeen and North of Scotland Committee of the BA and Chair in Energy and Environmental Engineering at RGU, and chaired by Ken Rundle from BBC Scotland.
The lively debate involved a panel of expert scientists including, Professors Jim Penman and Ian Bryden from RGU, Professor Fred Glasser from Aberdeen University and Maf Smith, Chief Executive of Scottish Renewables.
Commenting on the debate, Professor Robertson said, "The government is currently re-examining the viability of adopting nuclear power for the country's future energy supply, and government targets have now been set in Scotland to provide 20% of the country's energy needs from renewables.
"This timely debate provided an informed discussion into the advantages and disadvantages of nuclear power in future energy policy-planning."
---