Prominent Forensic Investigator and Waking the Dead Advisor Joins RGU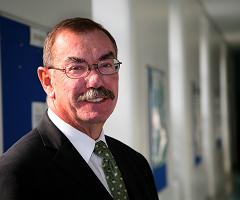 An internationally-renowned forensic scientist who has worked on a plethora of high-profile murder cases with police forces across the world, and advised on feature films and TV series including Waking the Dead, has joined the School of Life Sciences as a Senior Lecturer.
Professor David Barclay, who is originally from Hull, was a forensic scientist from 1972-1990 with the Forensic Science Service (FSS) at the Birmingham laboratory. He ended his time there as a senior scientific officer in charge of the Drugs and Toxicology section, giving evidence in the most serious drug dealing importation and production, and criminal poisoning cases.
In 1990 Professor Barclay was selected as part of the FSS management team as they became an agency within the Home Office, playing a key role in the introduction of delegating police with scientific casework for the first time.
From 1993 Professor Barclay was Serious Crimes Business Manager responsible for enhancing the use of forensic science by police forces throughout the UK. During this time Professor Barclay was responsible for major developments to investigative practice.
In 1996 Professor Barclay was attached to the newly formed National Crime Faculty at the Police Staff College, Bramshill to help set up this new operational support resource for the police. This part-time secondment evolved into the role of Head of Physical Evidence, which he held until he retired in 2005, having undertaken physical evidence reviews of around 230 murder investigations, including many in Scotland.
As part of his work with the NCOF, Professor Barclay gave operational support to investigators across the world in the most serious crimes, including cold cases and miscarriages of justice. He worked on high-profile enquiries including those on Bloody Sunday and the Omagh bombing. Professor Barclay also worked on the Sarah Payne case, assisting in the conviction of sex offender Roy Whiting in 2001, as well as on the Millie Dowler and Soham murder cases.
Until he retired Professor Barclay was a member of a number of Association of Police Officers (ACPO) committees, and in 2005 he served as the scientific advisor to the UK Parliamentary Select Committee Inquiry into forensic science.
Over the past three years Professor Barclay has lectured extensively overseas, and in August 2004 he was presented with the IHIA Achievement Award, the first time this had been awarded to a non-police officer. He also undertakes cold case investigations in sensitive cases abroad. However, the majority of his time was, and still is, taken up with casework, adopting a forensic overview on cold cases or current but intractable investigations.
Professor Barclay was the script consultant and technical advisor for the pilot of Waking the Dead and assisted in the design of the laboratory set and procedures. He was also technical advisor to the feature film The Hole and technical coach to Embeth Davitz who played the psychologist lead.
From 2001-2004 he provided technical advice to a number of BBC Timewatch episodes on forensic science, crime investigation, and DNA related matters. He has taken part in many documentaries and radio and TV interviews globally and is currently filming a Granada TV series on unsolved murders, as well as preparing a programme investigating historic murders for the Discovery Channel.
Professor Barclay will join RGU as Senior Lecturer on its Forensic Science and Forensic Science with Chemistry courses, which are the only forensic courses of their type in Scotland to be accredited by The Forensic Science Society.
Professor Barclay said, "I am extremely pleased to be joining the academic team at RGU. It is vital to bridge the gap between practice and academia to produce graduates with rounded practical knowledge and experience. I look forward to working with the next generation of forensic investigators."
Professor Barclay will split his time between Aberdeen and Gairloch on the West coast, and will continue to work on cold case reviews at the request of police forces across the world.