RGU: SPORT Supports Cycle Challenge
RGU: SPORT is one of the sponsors of the Cornerstone Cycle Challenge 2005.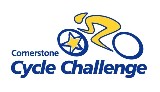 The Challenge, which runs from 4th-24th October, raises funds for Cornerstone Community Care, one of Scotland's leading charities providing services and support for people with learning disabilities or special needs.
The Challenge will involve a number of teams competing to see which squad can cycle the furthest within the 21 days. The participants, who include groups of offshore workers from each of the major oil companies, will cycle on static bikes mounted on turbo trainers and located within their workplace.
RGU: SPORT has donated a number of sports centre memberships which will be raffled off to raise funds for the charity, and has contributed fitness information and advice to the Challenge website. World Champion and Olympic Gold Medal winning cyclist Chris Hoy will be supporting the event, along with Miss Scotland, Lois Weatherup.
The Challenge was launched at The Maritime Museum in August, with Lorna Picken, Sports Facilities Manager and Moira Page, Team Leader at RGU: SPORT attending the event.
You can visit their website at: