Fond Farewell as V-P Returns to his Roots
Colleagues and friends from across RGU gathered at Aberdeen Business School on 13 July to wish Bill McIntosh all the best in his new role as Principal of the Lauder Group.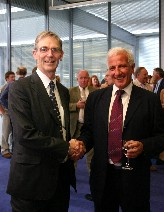 Professor McIntosh joined RGU in 1988 and during his time with the University had responsibility for many different areas including External Affairs, Human Resources, Estates and Univation. Amongst the highlights of his career are RGU gaining the Investors in People Award, Univation winning the Queen's Award for Enterprise in International Trade, the development of the Virtual Campus and the creation of the Foster Building, along with RGU's ongoing estates strategy.
Professor Stevely said, "Bill's influence and contribution to RGU has been immense. He has been directly involved in so many facets of the University that his legacy will be enjoyed by future students long after his departure."
Professor McIntosh takes up his new post as Principal of the Lauder Group on 1st September.