Graduation 05: Aberdeen Business School

Ashi Arif-Hall graduated with a BA(Hons) Business Studies. Whilst in her second year, Ashi became pregnant and had to take a year out, giving birth to her son Saif on Christmas Day 2002. In November last year she became pregnant again, but was determined to finish her course. Her baby was due two weeks after her graduation.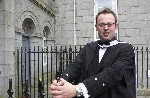 David Scott graduated with a PgDip Electronic Information Management. David had previously earned a Music and Business degree at Strathclyde University. He now does freelance work, and has recently taken up a job as Database Assistant within RGU's Corporate Affairs department.

Dawn Rosie graduated with a BA(Hons) Corporate Communication. During her studies Dawn held four different jobs within RGU as a student placement in the Marketing office, as Student Ambassador at Open Days, as a student caller for an alumni fundraising project and doing database management for Univation.

Hazel Watt graduated with a First Class Honours degree in Accounting and Finance. Hazel carried out a fifteen month placement at PriceWaterhouseCoopers in her third year. The placement went so well that she was offered a full-time position after she graduated; she began her new job in July.

Heather Tulloch graduated with a First Class Honours degree in Management. This was Heather's second degree, which she completed despite giving birth to her son James halfway through the course and being violently ill during her Honours year exams.

Jemma Thomson has graduated with a First Class Honours degree in Accountancy and Finance. Jemma, who was the first person in her family to graduate, found out that she had been awarded a first class degree on the same day that Johnston Carmichael in Inverurie offered her a job.

Jennifer Fraser graduated with First Class Honours in Tourism and Hospitality Management. Jennifer recently won a prize for her research project investigating the impact of the making of Lord of the Rings on the tourism sector in New Zealand. Jennifer is now working at the British Airways London Eye.

Lorraine Dobson graduated with a BA(Hons) Business Administration. While studying, Lorraine discovered that she and her cousin Jackie shared an ambition to open a children's nursery. The pair have now found premises in Methlick and opened their nursery, Wee Darlings, just four days after Lorraine collected her degree.

Louise Buchan graduated with a First Class Honours in Accountancy and Finance. Louise has volunteered as a Special Constable for a little over a year. She said, "When I was younger I really wanted to join the police, but I also wanted a career in accountancy. This way I get to pursue the career I enjoy and still fulfill my dream."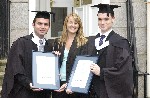 Michael Dalgleish and Michail Tzouvelekis graduated with First Class Honours in Corporate Communication. Michael and Michail both won the Grampian PR Group Award after coming top of their class. Michael is now working as Marketing Co-ordinator for Petrofac Training, while Michail is working for O2.

Wai-Man Shek and Jennifer Long graduated with First Class Honours LLBs. This was Wai-Man's second degree from RGU, and both she and Jennifer have worked at the University during their studies. The friends are now working towards their Diplomas in Legal Practice; Wai-Man will be beginning a traineeship at Ledingham Chalmers in August 2006 and Jennifer has secured a traineeship at Turcan Connell in Edinburgh starting in October 2006.