Graduation 05: WWII Survivor Graduates from Gray's
Marga Schnell has graduated with a BA(Hons) in Fine Art.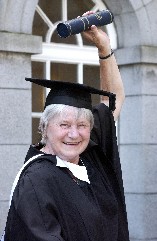 Marga had an incredible journey to where she is today. She grew up in Germany during World War II, during which her father died and her family lost their home and business.
A shortage of teachers after the war led to Marga's teacher being drafted in from retirement. Her class had more than forty children in it, and the teacher had difficulties coping with the work. As a result, Marga's early education was patchy and she failed to gain the qualifications she needed to go to college.
Marga held a number of low wage jobs in her youth, attending evening classes whenever possible. She was eventually offered a place at college on the condition that she learned to speak English first.
Through a family friend, Marga found volunteer work with the Camphill Rudolf Steiner School in Aberdeen. She arrived intending to stay for six months, but the atmosphere made such an impression on her that she has lived and worked there ever since.
Marga applied to Gray's after completing a part-time portfolio course. She said, "It seemed so unreal to me. When the course tutor told me that I had been accepted I couldn't believe it. I left the building and just stood outside with tears streaming down my face – my dream was finally coming true all these years later."
Marga's ambition is now to earn enough from her artworks to buy a campervan and travel around Scotland.