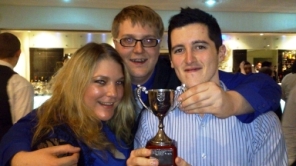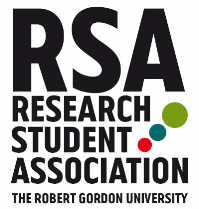 Research Student Association (RSA)
Introduction
The Research Student Association (RSA) welcomes all RGU Research Students. We are a group through which you can network, meet other research students, get support from fellow researchers and join in social activities. Our community of research students are based in Aberdeen & round the world, studying at RGU in different disciplines.
We won the '2013 Best Improved Society' Achievement Award in April 2013!
---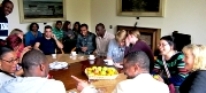 What we do
We provide a number of informal activities aimed at developing personal research skills and/or socialising, and the 3-day Research Student Gathering at The Burn, Edzell, is one of our most exciting events. All current RGU research students are given the opportunity to attend. Check out our key events calendar for 2012/13 with details of our monthly events. We are also on facebook under RGU Research Student Association.

RSA Events 2012-13
---
How to join and the benefits
Yearly membership to the RSA is a nominal £5 fee (and you receive the coveted RSA mug!) and you can take part in all the events that we organise. As we are an RGU:Union Society, RSA members can also apply through us for a key fob to get discount at the Student Union and RGU:Sport. To be an RSA member contact us at rsa@rgu.ac.uk.

Want to get involved?
The RSA thrives on voluntary research student involvement and we are always on the look-out for keen students to get involved. It's also great for your CV! Opportunities include coming up with ideas, organising events, fundraising, becoming an RSA point of contact for your School/Department, maintaining the web pages and Facebook etc. Interested? We'd love to hear from you. Drop us an email at rsa@rgu.ac.uk.

---
The RSA Committee
Co-President: Stephen Williamson
Co-President: Lee Boag
Treasurer: Marianthi Leon
Social Secretaries: Melehat Nil Gulari and Efsevia Nicokavoura
Health & Social Care RSA Representative: Lee Boag
Gray's School of Art RSA Representative: Melehat Nil Gulari
School of Engineering RSA Representative: Slimane Kerrouchi
School of Pharmacy and Life Sciences RSA Representative: Radisti Praptiwi
Scott Sutherland School RSA Representative: Marianthi Leon

---

'Like us' on Facebook (find us under RGU Research Student Association) to be kept up to date with events, or you can contact us at rsa@rgu.ac.uk with suggestions, concerns and rants. Please, we'd love to hear from you!