Pharmacy Practice Research Group
IHWR Pharmacy Practice Research Group
The Pharmacy Practice Research Group comprises academic staff of the School of Pharmacy & Life Sciences representing a wide range of research and pharmacy practice experience.
Dr Derek Stewart is convenor of the group; other group members are:
The key research themes of the group are:
aspects of medicines usage from individual patients (pharmaceutical care)to populations (pharmaceutical public health)
models of evolving pharmacy practice – development and evaluation
Members of the group have extensive collaborative links with NHS providers, both locally and nationally, other academic institutions, NHS Education for Scotland and the Scottish Executive Health Department.
Current research activity employs both quantitative and qualitative methodologies and includes:
Pharmacist Prescribing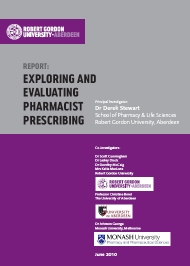 Supplementary prescribing is defined as 'a voluntary partnership between an independent prescriber (a doctor or dentist) and a supplementary prescriber to implement an agreed patient-specific clinical management plan with the patient's agreement'. Supplementary prescribing aims to encourage a team approach to the care and management of patients and to make the best use of the skills of trained professionals. Supplementary prescribing by pharmacists was introduced in 2003 and those completing the course at The Robert Gordon University were the first pharmacists registered as prescribers with the Royal Pharmaceutical Society of Great Britain. Models of practice are now being developed in primary and secondary care. Research in this area is focusing on structures, processes and outcomes of supplementary pharmacist prescribing.
Click the image to view the group's June 2010 report entitled Exploring and Evaluating Pharmacist Prescribing.
An independent prescriber is 'responsible for the assessment of patients with undiagnosed conditions and for decisions about the clinical management required, including prescribing'. The independent prescriber diagnoses and prescribes. Consultation on independent prescribing by pharmacists is planned to commence in 2005. Research is being conducted to determine the views of community pharmacists in Scotland regarding independent prescribing by pharmacists, with particular emphasis on: medical conditions and drugs most suitable for a community pharmacy environment; training needs; and implementation. Once implemented into practice, research will focus on structures, processes and outcomes.
Research group members involved are Dr D Stewart, D Pfleger, Dr S Cunningham, R Edwards, Dr D McCaig, and K Munro. External collaborators are Professor C Bond (University of Aberdeen) and Ms A Strath (Scottish Executive Health Department).
Pharmacovigilance in Children
Pharmacovigilance is defined as 'a process of identifying and responding to risk-benefit issues arising with marketed medicines'. The safety of medicine use in children is of major public and regulatory interest, however there is a significant lack of data and appropriate systems to facilitate drug safety monitoring in the paediatric population. Spontaneous reports of adverse drug reactions (ADRs) to the Committee on Safety of Medicines (CSM) are the main sources of information for regulatory pharmacovigilance in the UK. However, very few reports of ADRs in children are received by the CSM. There is a need for a comprehensive mechanism for monitoring ADRs in the paediatric population. Pilot research data have demonstrated the potential for a community based method of ADR monitoring operating via community pharmacies. This research in ongoing focusing on targeted medicines.

Research group members involved are Dr D Stewart and Dr D McCaig. External collaborators are Dr J McLay, Professor P Helms and Professor C Bond (University of Aberdeen).
Alcohol Issues in Community Pharmacies
Despite overwhelming evidence of the negative impact of current levels of alcohol consumption on health, there are no examples of community pharmacy activity to identify/address hazardous or harmful drinking. This is despite strong evidence that brief interventions in primary care can reduce alcohol consumption and the recognised role of community pharmacists in public.
Funding has been received from the Alcohol Education Research Council to develop, implement and evaluate a pilot project to deliver interventions on alcohol issues in community pharmacies. Specifically, this research will: train community pharmacists to initiate discussion of alcohol consumption with targeted pharmacy clients and screen, intervene or refer as appropriate; explore, with pharmacists and clients, the feasibility, acceptability, perceived value and perceived impact of provision of such interventions in community pharmacy settings; and identify markers of good practice.
Research group members involved are Dr D Stewart and Dr D McCaig. Dr N Fitzgerald (senior research fellow) is project manager. External collaborators are S Bryson, F Moffat and D Thomson (NHS Glasgow); Professor H Watson (Glasgow Caledonian University).
Diabetes Mellitus
Diabetes mellitus is a chronic disease state of worldwide significance. Previous research in this area has included investigating the agreement of community pharmacists in Grampian with RPSGB/ Diabetes UK Guidelines for Community Pharmacists on the Care of Patients with Diabetes Mellitus; surveying patients in primary care regarding self-monitoring and evaluating community pharmacists' interventions in supporting the management of type 2 diabetes mellitus in a primary care setting.
The Right Medicine: a strategy for Pharmaceutical Care in Scotland made a commitment to develop pharmaceutical care models for the management of chronic diseases including diabetes to underpin the new community pharmacy contract. NHS Scotland recognises the need to provide type 2 diabetes patients with additional support and is about to implement an innovative Pharmaceutical Care Model Scheme (PCMS) based in community pharmacies from 2006/07. This aims to assess the pharmaceutical care needs of people with type 2 diabetes mellitus in relation to their condition and its management and to provide appropriate information and support in response to individual need. Research is planned to evaluate the scheme from the perspectives of the patient and the community pharmacist.
Research group members involved are Dr D Stewart and Dr D McCaig. Dr R Knott of the School of Pharmacy & Life Sciences and Dr B West of the Centre for Nursing Practice, Research and Development are also involved. External collaborators are Professor A Morris (University of Dundee) and Ms A McGregor (Scottish Executive Health Department).
Other research in this area includes: identifying the need for counselling and advice related to condition and medication in patients with type 2 diabetes mellitus; and identifying the educational needs of health professionals relating to the management of type 2 diabetes mellitus in primary care. Research group members involved are Dr D Stewart, Dr D McCaig, Dr S Cunningham and K Munro. External collaborators are A Davie, L Juroszek and A Taylor (NHS Grampian).
Medication Errors
A medication error is defined as a mistake, slip or lapse made when medicines are prescribed, dispensed or used, and occur frequently in all health care systems and at all points of the patient medication journey. Medication errors are an important area of concern and the Department of Health published 'Building a safer NHS for patients – Improving medicine safety' (2004) which provides guidance for health professionals and NHS organisations. Research in this area is focusing on processes around drug administration and investigating the perspectives of health professionals in relation to the causes and methods of preventing drug administration related errors.
Research group members involved are C Innes, Dr S Cunningham, D McCaig and Dr D Stewart. External collaborators are S Healy, A Duncan, C Hind (NHS Grampian); M Watson (University of Aberdeen).
Reclassification of Medicines
Omeprazole (a proton pump inhibitor) and simvastatin (a statin) have been very recently reclassified from prescription only medicines to pharmacy medicines. Omeprazole is the first proton pump inhibitor to be reclassified and extends the range of medicines available without prescription for the management of dyspepsia. Simvastatin is the first statin to be reclassified and is recommended to reduce the risk of coronary heart disease. Research is ongoing to: determine the early experiences of community pharmacists with these medicines; compare and contrast the responses to omeprazole and simvastatin. Plans are in hand to extend this research to study medicines utilisation by patients, effect on outcomes and the views of key stakeholders.
Research group members involved are Dr D Hansford, Dr S Cunningham and Dr D Stewart. Dr D John (University of Cardiff) is an external collaborator.
Medication Review in Primary Care
Regular medication review is recommended for those over 75 and those on multiple drug therapy and forms part of the new NHS contracts. Pharmacists are well known to be effective in performing medication reviews in primary care but the need and the time required is often greater than pharmacists' capacity to provide the service. In Angus Local Healthcare Co-operative, Tayside, an initiative to provide pharmacist supported training in medication reviews to GPs, community pharmacists and community nurses has been funded by the Medicines Management Group. After completion of the training programmes, it is planned to invite patients to come forward for medication review.
Dr D Hansford from the research group is investigating the views of the healthcare professional groups about this training and the outcomes of it, and will also investigate the views of patients. Dr J Krska and Mr D Gill (Tayside) are external collaborators.