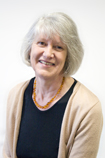 Dr Dorothy McCaig
d.mccaig@rgu.ac.uk
+44 (0) 1224 262538
PA23A
Key Duties and Responsibilities
I am a senior lecturer and teaching group leader for clinical pharmacy. I am responsible for overseeing the development and delivery of clinical pharmacy in the undergraduate course and line manager for other academic staff in the clinical and e-learning areas. I am also a member of various school committees: school academic board, postgraduate programmes management team, undergraduate programmes management team. I am active in research and convene the pharmacy practice research group in the school, am a member of the school research committee and represent the school on the faculty research sub-committee. I am also joint co-ordinator of the faculty education research theme .
Academic Background
I obtained a BSc with honours in pharmacology from the University of Edinburgh, followed by a PhD in cardiovascular pharmacology for the University of Strathclyde. I then spent several years as a research fellow in the USA, New Zealand and Scotland, where I worked in the area of electrophysiology of skeletal and airway smooth muscle. I was particularly interested in the pathophysiology of asthma. In the 1990s I switched to a pharmacy practice research base and continue to be active in this area.
Current research interests
My research interests are varied and include: optimisation of antibiotic use; implementation and evaluation of treatment guidelines; pharmacist prescribing, medicines in children; reclassified medicines and brief intervention to promote safe alcohol consumption
Antibiotic Use
I have been involved in promoting rational antibiotic use in secondary care and primary care both in Scotland and abroad. I have a PhD student currently examining the role of the antimicrobial pharmacist in promoting best practice in antibiotic therapy. We are particularly interested in the potential for pharmacist prescribers (supplementary and independent) to impact on antibiotic use.
Guidelines
I have been involved in developing, implementing and evaluating adherence to guidelines for a variety of conditions including asthma, hay fever and common cold, diabetes and infection in general.
Pharmacist prescribing
With the advent of supplementary and now independent pharmacist prescribing in the UK I have become interested in research to support this exciting development. My interests include: the current and future training needs of pharmacist prescribers; the experiences and views of pharmacist prescribers, their doctor colleagues and the patients themselves. I am involved in a number of research projects in these areas along with colleagues at RGU, the University of Aberdeen and NHS Education for Scotland.
Medicines in Children
The development of systems to ensure appropriate and informed use of medicines in children is a national and European priority. Reporting of adverse drug reactions (ADRs) in children is difficult and limited by the current pharmacovigilance systems which rely primarily on opportunistic reporting of ADRs. There is potential for community pharmacists to impact on monitoring systems for ADRs in primary care as part of their pharmaceutical public health role. I am involved in research projects focusing on medicines in children along with colleagues from the University of Aberdeen, RGU and CSM Scotland.
Reclassified Medicines
Reclassification of medicines form prescription only to pharmacy only (available to purchase over the counter) has been actively promoted in recent years to increase medicines accessibility to patients. Where this occurs it is important to assess the implications of the reclassification in terms of views and acceptability to health care professionals and patients and impact on management of specific conditions, including effectiveness and safety. I am involved in a number of research projects in these areas along with colleagues at RGU, the University of Aberdeen and the Welsh School of Pharmacy.
Brief Intervention to Promote Safe Alcohol Consumption
Alcohol consumption above recommended units is a huge national problem. I am interested in the possibility of the community pharmacist offering a brief intervention to promote safe drinking. The community pharmacist is readily accessible and is likely to see a range of clients, including young adults, who may have little contact with other health care professionals. A feasibility study funded by the Alcohol Education Research Council and conducted in Glasgow indicated that such an intervention could be developed for community pharmacy. We are keen to explore this further in a larger scale study.

Key Publications
McCaig DJ, Hind CA, Downie G, Wilkinson S.(1999). Int. J. Pharm. Pract. 7 (1): 18-28 Antibiotic use in elderly hospital in-patients before and after the introduction of treatment guidelines.

Stewart D, O'Shea J, McCaig D (2003). Agreement of practitioners with the recommendations of the 'guidelines for community pharmacists on the care of patients with diabetes'.
Stewart D, McCaig D , Davie A, Juroszek L, Blackwood L, Findlay N, McCarthy S. (2004). Journal of Clinical Pharmacy and Therapeutics 2004: 29; 273-277. Glucose self-monitoring in primary care: a survey of current practice.

Tonna A., McCaig Dj , Cacciottolo, JM (2004) Pharm. World Sci 26:214-220
The impact of guidelines on long-term asthma care: a study of hospitalised patients in Malta.
Stewart D, Helms P, McCaig D , Bond C, McLay J (2005). British Journal of Clinical Pharmacology 2005; 59: 677-683. A novel community based method to monitor the frequency and nature of adverse drug reactions in a paediatric population: a pilot study.
Khatib, R, McCaig D , Giacaman, R.(2006) Treatment of infection: a cross-sectional survey of antibiotic drug utilisation in the Ramallah district of Palestine.
George J, McCaig D , Bond C, Cunningham S, Diack L, Watson A, Stewart D. (2006) The Annals of Pharmacotherapy 2006;40(10):1843-50. Supplementary prescribing: early experiences of pharmacists in Great Britain.
George J, Munro K, McCaig D , Stewart D. (2006). The Annals of Pharmacotherapy 2006; 40: 2123-9. Prescription medications: beliefs, experiences, behaviour and adherence of sheltered housing residents
George J, Pfleger D, McCaig D , Bond C, Stewart D. (2006). Pharmacy World & Science 2006;28(2):45-53. Independent prescribing by pharmacists: a study of the awareness, views and attitudes of Scottish community pharmacists.
George, Johnson; Munro, Kim; McCaig, Dorothy; Stewart, Derek. (2007) British Journal of Clinical Pharmacology, Volume 63, Number 2, February 2007 , pp. 171-176(6). Risk factors for medication misadventure among residents in sheltered housing complexes
George J, McCaig D , Bond C, Cunningham S, Diack L, Watson A, Stewart D. (2007) International Journal of Pharmacy Practice 2007; 15: 23-30. Benefits and Challenges of Prescribing Training and Implementation: Perceptions and Early Experiences of RPSGB Prescribers.

Research Grants
Stewart D, Fitzgerald N, McCaig D, Watson H, Moffat F. Development, implementation and evaluation of a pilot project to deliver interventions on alcohol issues in community pharmacies. Alcohol Education and Research Council, Jan 2005 - Dec 2005.

Stewart D, Johnson G, McCaig D, Cunningham S, Diack L, Bond C, Binnie L, Cleland J. Developing and evaluating an E-network of pharmacists undertaking supplementary prescribing and their linked designated medical practitioners, which is supported by academia, aiming to enhance the period of learning in practice. The Royal Pharmaceutical Society of Great Britain, Oct 2005 - Sept 2006.
Diack L, Gibson M, McCaig D, Stewart D, Binnie L, McKenzie H, Bond C. E-learning for sharing across medical, health and social care undergraduate students: development, assessment and evaluation of an e-learning inter-professional module. The Royal Pharmaceutical Society of Great Britain, Oct 2005 - Sept 2006.
Stewart D, Pfleger D, McCaig D, Diack L. Education and training in pharmaceutical public health for community pharmacists: a needs assessment. NHS Education for Scotland, April 2006 – March 2007
Stewart D, Cunningham S, Diack L, George J, McCaig D, Bond C. Evaluating supplementary prescribing by pharmacists in Scotland. NHS Education for Scotland, May 2006 – April 2007
McLay J, Stewart D, D McCaig, C Bond, P Helms, N Bateman, A Lee. A pilot study to evaluate a community pharmacy based monitoring system to identify adverse drug reactions associated with paediatric medicine use. Chief Scientist Office, Scottish Government. January 07.