RGU News Article Date Posted: 14-Dec-2004 Valid Until: 14-Jan-2005
Raising Awareness of Date Rape in Bars and Clubs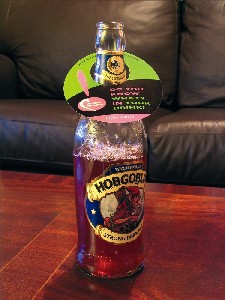 MA students from Gray's School of Art at The Robert Gordon University (RGU) have designed an innovative new way to draw attention to the dangers of date rape and date rape drugs on behalf of Rape And Sexual Abuse North East (RASANE) in Aberdeen, formally the Rape Crisis Centre.
One of the items designed by student Ken Gowans who has led the project, is an innovative circular card with a hole in the middle which can be placed over a bottle or glass which has been left unattended in a club or bar. The card says 'Do you know what's in your drink?' and has the contact details of RASANE printed on one side.
Ken (47) from Inverness worked in collaboration with fellow students Elisabeth Botsi and Laura Fenwick. He said, "The idea behind these cards is that when people return to their drink the card will make them think about the fact that they had left it and that anything could have been placed in it while it was unattended. The cards do not cover the top of glasses or bottles but leave them accessible to reinforce the fact that the drink has been left exposed."
The ultimate aim of the campaign is not just to warn of the dangers of date rape drugs but to raise awareness of RASANE. Bridget Stone, Development Worker at the Centre said, "We want people to know that we are here to give confidential support and advice to any women who need it."
"Figures by the Home Office state that six women are raped every hour in the UK and 5% of British women have been raped at some time in their lives. It has never been more important to have the centre and we want local women to feel they have someone to talk to."
"Alcohol, date rape and date rape drugs are just one issue within a much wider problem and we want women to be safe and especially vigilant over the Christmas period."

Dr Ken Neil, Project Supervisor and lecturer at Gray's said, "This is an extremely worthwhile project for our MA students to be involved in, exactly what we want to encourage. I believe they have designed an interesting and effective way of bringing attention to both the Rape Crisis Centre and the broader social issue of date rape and sexual abuse.
"At Gray's we produce artists and designers who are eager to apply their creative and critical skills to real social issues and to contribute meaningful and important work locally, nationally and internationally. Studying at art school today is about much more than painting still-life or designing earrings."
RASANE provides free confidential support and information from women, for women and girls who have experienced any form of sexual violence at any time in their lives. Women can ask for support about a range of issues including child sexual abuse, often dating back many years, being raped as an adult, domestic abuse, sexual assault, sexual harassment at work and ritual abuse.
Ken Gowans has also created a new corporate identity for the centre to raise awareness of rape and sexual abuse in the North East and to communicate the centre's role within the community.
RASANE, in collaboration with Gray's School of Art, will launch the campaign across Aberdeen in the New Year.
The Centre is situated on 1-3 Little Belmont Street, Aberdeen, Tel: 620772. The phones are staffed Monday and Thursday 7pm to 9pm and Tuesday and Friday 12pm to 2pm and will be operating as normal over the festive period. A 24-hour answering machine is in operation at other times and all calls will be discreetly returned. Further information about the Rape Crisis Centre can be found at www.rapecrisisscotland.org.uk