ITS Department Home Page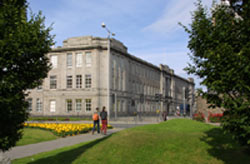 Overview
The IT Services Department at the Robert Gordon University is responsible for the development, delivery and support of centrally provided IT systems and services across the Robert Gordon University. The Department itself is located in the St Andrews Street building in the centre of the City of Aberdeen. Most of the staff are located in a modern, open plan office area with the Help Desk staff located behind the service desk at the front door, and Computer Operations staff located immediately beside the St Andrews Street server room.

There are many complexities in delivering a modern IT service to a diverse and demanding environment such as you find in a modern University such as RGU.
IT Services works closely with key groups around the University to ensure that there is a seamless delivery of IT provision to staff and students across the Campus. In particular, IT Services liaises closely with:


The School of Computing manages its own server and application environments. The Department of e-Learning manages the University's Virtual Campus. Faculty based teams have developed the University Intranet (I-net) environment. The University IT Technicians who are based in the Faculties provide first hand support to staff and students on most desktop and software problems.