Faculty Learning Enhancement Co-ordinators
---
Fiona Roberts - School of Health Sciences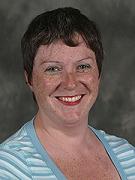 I was appointed as LEC in 2006. I've always had a strong interest in the student experience and enhancing their learning so this role appeared ideal to me. Since taking on this role we have worked hard as a School on issues around assessment and assessment feedback. The School have worked hard on this to ensure that they give students effective and useful feedback but this is an ongoing task to ensure we maintain standards but also look at ways we can facilitate this process for staff and students alike. Our current projects revolve around developing the induction process across the different years. In session 2008/9 year 1 was the focus and next year we plan to look at year 2. I am also involved in working with the LEC's across the faculty to identify areas where we have common interests so that we can work together and pool resources.

I aim to be a facilitator of enhancement. I work with School Staff to identify key areas for the School to work on as a whole. I also work with individuals on module projects and with course teams on specific issues they want to target. Part of my role is also to feed back what is going on so if you've been working away at enhancements in your modules or courses please let me know what you've done so I can tell others how active we are!

I am a resource for all staff within the School- for advice, help etc. If you've got ideas and not sure how to move forward with them - pop in or drop me an email. Enhancement is the name of the game

---
Kate Goodhand - School of Nursing and Midwifery
I was re appointed as LEC in November 2008. As stage one leader I have a vested interest in the student experience and in the engagement and retention of students. The role of LEC allows me to liaise with the wider university community to think about different ways we may do this.
The School of Nursing and Midwifery has been working on several initiatives. Currently, the integration of study skills into all modules is an area for development for all courses within the pre and post registration portfolios. This will be evaluated after September 2009.
I am looking forward to working with the LEC's across the faculty to share ideas and pool resources. One focus of 2009 will be the work following up the Faculty Staff Conference; looking at alternatives to lectures to promote student engagement

I am here as a resource for all staff within the School of Nursing and Midwifery so please contact me with any queries and as part of my role is about feeding forward please let me know about any new initiatives so I can spread the word.
---