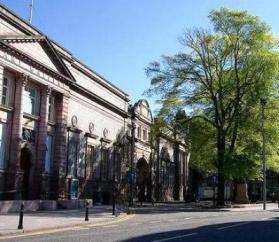 Student Induction Information
Welcome
On this e-Induction page you will find various links to provide you with important information relating to the University and the courses we offer. It is essential that students take the time to read this information before embarking on their chosen course.
Dear New Students,
I am pleased to welcome you to the School of Engineering at The Robert Gordon University. The University prides itself on its strong links with industry and the quality of its teaching staff. During your time on your chosen course you will engage with lecturers, consultants, researchers and advisors, many of whom are invited to the University as practicing engineers, thus providing students with a unique balance of theory and practice. The school staff and I, very much look forward to welcoming you to the University and supporting you through your studies.

We wish you well with your studies.
Professor J.A. Steel
Head of School of Engineering

---
The Student Journey
---
Induction Schedule 2010/11
Engineering UG students - both new and returning, can find information on the Induction Schedule for 2010/11 using the link below.
Additional useful information can be found on CampusMoodle in module ENS101.
---
Student Welfare and Support
RGU has a full range of Student Services offering support and advice regarding topics such as; Counselling, Disability, International Students, Medical and many other issues. The following link contains further information on RGU Student Services;
---
Class Times
Lectures and tutorials normally take place between 9:00 a.m. and 5:00 p.m. Monday to Friday.
---
Plagiarism Guidelines
This section contains useful guidelines regarding plagiarism, plagiarism is a form of academic misconduct and it is extremely important to understand what constitutes plagiarism.
Copyright on Lecture Notes, Coursework Questions and other course materials; The Robert Gordon University owns copyright on all lecture notes, coursework questions and other course material. The lecture notes, coursework questions and other course material available as part of a course are intended solely for the student's own use and must not be reproduced without the permission of the Robert Gordon University.


Plagiarism Guidlines