Make the RGU model ROV
You can make your own working miniature "toy" ROV like the one shown here in an afternoon using inexpensive components and a minimum of tools.
The ROV is intended to run in fresh water such as in a bath or fish tank only as it uses low voltage motors running open (i.e. not waterproofed) in the water.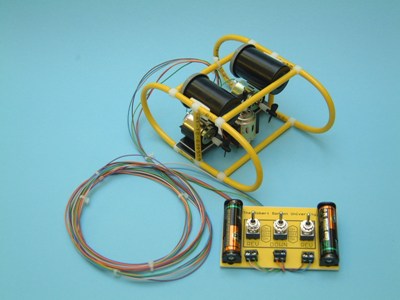 ---
Background
The origins of the ROV kit rest with a correspondence with Harry Bohm (co-author with Vickie Jensen of "Build your own underwater robot and other wet projects")on the subject of student ROV projects at around 2000. I got interested in designing a minimalist ROV along the lines of the BEAM philosophy of robot building. The first ROV was made out of Lego Technic (TM) with a control panel mounted of a piece of Veroboard. A tidier version with the switches and batteries in a box is shown here. It is still running at the end of 2007.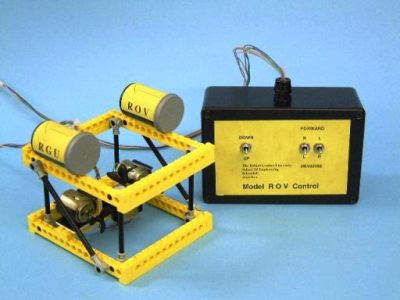 The first version of the ROV kit was made by over 250 primary school children. Pupils from schools from all over the North East of Scotland built and tested their ROVs in a workshop run by the Aberdeen Maritime Museum and the School of Engineering during National Science Week 2003.
In 2004 RGU granted limited licence to MadLab to produce the kit.
Since then, the kit has undergone gradual and continuous change and improvement as new sources of material have become available. The ROV has been built by children of a wide range of ages and adults.
In 2006 RGU sponsored the Young Engineers Scotland "Celebration of Engineering" and ran a Technical Challenge in which the ROV was used to recover "sunken treasure" from the bottom of a fish tank. The participating Young Engineers received a kit for their club to build.
Since November 2006, the ROV has been used in the Shell UK In-service Enterprise in Education and Technology (InsE&T) teacher training workshops. These workshops support the teaching of engineering and technology in Primary Schools through collaboration with their cluster Academies (secondary or high schools)and business partners in Scotland.
---
Interim Instructions
Rewriting the instructions to make them useful to contructors in different locations and with access to different materials is taking longer than expected. We have decided to publish the original instructions because there is a growing interest in the little ROV.
The assumption is that the builder is using our kit of parts. Please note that that the kits are normally built in workshops where RGU staff are on hand to guide the builders. The instructions are therefore little more than a classroom guide and checklist.
Until we find the time to produce full instructions, we hope the information here will allow others to use their ingenuity and skills to invernt their own version.

Mini ROV Instructions 00 Introduction

Mini ROV Instructions 01 Frame

Mini ROV Instructions 02 Thrusters

Mini ROV Instructions 03 Motors

Mini ROV Instructions 04 Control

Mini ROV Instructions 05 Assembly
---
Under Construction!
Please accept our apologies for not being able to provide full "DIY" constructional details at present.
Information will be added as time allows.
Thank you.
Tools
To make the ROV you will need (and be able to use!) the following tools. The list will vary if you use other materials and methods of construction.
Small soldering iron (say 15-25 W) and solder.
Small wire cutters.
Wire strippers.
Small (electrician's) flat bladed screwdriver.
Craft knife.
Steel rule, or ordinary ruler plus metal straight edge.
Glue gun (optional).
Parts List
The parts used in the original RGU ROV kit are given here. If you are making your own ROV from bits and pieces, some alternatives are suggested. The RGU kits cost about £15 in quantity, so you can expect to pay a bit more or less depending on what suppliers you use and how much you improvise.

Schools ROV kit costing 2002
The ROV frame
The ROV frame is made out of fairly stiff 6mm diameter nylon pneumatic hose held together by miniature plastic barbed hose Tee-piece joiners. Buoyancy tanks are 35mm film cannisters. Other methods of construction are possible. In fact the prototype was made out of LEGO pieces. Other options are K'nex, modeller's plastic rod or tube, balsa, toffee apple or ice lolly sticks - in fact anything reasonably stiff and not too heavy that is easy to work and will not be adversely affected by water.
| | | |
| --- | --- | --- |
| Frame | | |
| Quantity | Length | Description |
| 10 | 21 mm | horizontal side pieces and "ballast pegs" |
| 2 | 60 mm | vertical side pieces |
| 4 | 44 mm | lower cross pieces |
| 2 | 95 mm | upper cross pieces |
| 2 | 120 mm | curved end pieces |
| | | |
| Other Items | | |
| Quantity | Description | Function |
| 2 | Rubber LED grommet / bezel | end caps for retaining ballast on pegs |
| several | Stainless steel washers e.g. M10 | ballast adjustment |
| 2 | 35 mm plastic film canisters | buoyancy tanks |
| 4 | 150 mm cable ties | for attaching buoyancy tanks to the frame |
The motor cluster and umbilical cable
The control panel and power supply