Build your own Underwater Robot (ROV)
We regularly get requests for help from enthusiasts wanting to make their own underwater robots. When time allows it we will upload hints and tips here.

The best starting place is a good book on the subject. All areas of engineering can be very mathematical and complex, but there are a few good introductory books on ROV building for budding Engineers listed below.
We have had a number of requests for information about our little model ROV. Some information about it is given here:
---
ROV Books for Beginners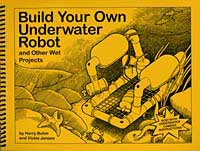 The best introductory book containing practical instructions for the beginner is:
Harry Bohm & Vickie Jensen
Build Your Own Underwater Robot and Other Wet Projects
Westcoast Words, 2003.
ISBN 0-9681610-0-6
The book is written for a wide audience. It starts off with simple projects suitable for primary school children and finishes with advanced projects that are appropriate for Higher Still courses. Several universities recommend the book to their students as an introductory text for underwater engineering projects. The final designs are suitable for ROVs operating in sheltered fresh- or sea-water at depths of perhaps 10m or more.
---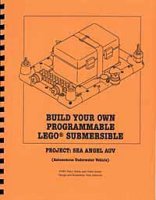 Another book by the same authors is:
Harry Bohm & Vickie Jensen
Build Your Own Programmable Lego® Submersible
Westcoast Words, 1998.
No ISBN.
As the title suggests, the subject matter is much more focussed. This time the robot is an "AUV" (Autonomous Underwater Vehicle) that will operate in fresh water up to a couple of metres deep.
---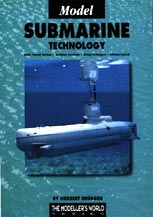 For enthusiasts looking for more detailed design information without having to study for a degree in naval architecture or marine engineering there is an excellent book written for radio control submarine enthusiasts:
Brüggen, Norbert
Model Submarine Technology
Traplet Publications Limited, 1996
ISBN 1-900371-04-9
The book devotes several chapters to the design and contstruction to pressure hulls. The mathematics involved should cause no problem for anyone with Higher or A-level and posssibly even Standard Grade mathematics. Some of the construction techniques assume access to a fairly well equipped home or school workshop, but a lot can be done with hand tools only. The rest of the book deals with control systems and trimming. The electronics is well within the grasp of a college student or a keen enthusiast.

---
Web Sites
There are a number of on-line resources to support the enthusiast.
ROV.Net is a web site run by professional ROV engineers based in Aberdeen in the North of Scotland. They host an ROV Forum which caters for the professionals but also supports enthusiasts wishing to build their own ROV.
RobotROV is a Yahoo group is "A place for builders of remotely operated vehicles, this group centers around underwater ROV's or AUV's but discussion of other types is not discouraged"

The SubCommittee is an organization dedicated to submarine modelling. They have a lot of information about radio control submarines, extensive galleries of photographs and host their own bulletin board.