Modular Evolutionary Artificial Neural Networks
---
Our work on Evolutionary Modular Neural Nets is loosely based on earlier research into the simplier growing networks mentioned in the next link. Sethuraman Muthuraman, who was a research student in the school, took our ideas a stage further by extending them to complex systems. Sethuraman was awarded a PhD for his work in 2005.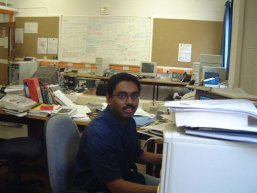 Sethuraman Muthuraman

The research uses our animat robots as a test bed. It aims to grow a network which can control all aspects of the robot's behaviour. This is accomplished by both growing the robot's body and its mind (neural network) at the same time. The approach is inspired by the evolution of animals from simple to complex forms over evolutionary time periods. After all, if you want to develop a complex robot why not take the same route as biology did? Start with a simple machine and slowly build up its brain, body and environment together. In our system it is done by starting with a very simple robot and gradually adding small neural networks (modules) to its "brain" until it can function well. Then the robot (and the environment it interacts with) is allowed to become slightly more complex and the process of adding further network modules is repeated. This process continues until the robot can fulfil all its desired tasks. The previously added functionallity stays (it does not evolve further, only the newly added modules evolve) and the newer parts build up like the layers of an onion. This means that, on each iteration, the search space remains small. The idea is shown in the illustrations below.


Once the system can control the simple legs, extra degrees of freedom can be added and the network allowed to evolve (incrementally). The control system for a prosthetic might also proceed along similar lines, starting with gross movements and working down finally to digits. Likewise, a sensory system like vision would start perhaps with a single eye spot - only able to perceive light and dark and evolve complexity from there.

Evolution of controlling network.

After each successful stage, the network is fixed and not allowed to evolve further. Only the current, newly added, module is allowed to evolve (although it can make connections to the previously evolved structures).
We have had great success with this method, including the successful evolution of walking robots, vision systems and their combination. There seems no reason, in principle, why the robot should not continue to build up to any level of complexity - the technique therefore offers a route to the development of useful evolutionary robots.
---

Access to Sethuraman's thesis can be obtained here:

---
References:
1. S Muthuraman, G Maxwell, C MacLeod, The Evolution of Modular Artificial Neural Networks for Legged Robot Control, Artificial Neural Networks and Neural Information Processing, Springer(LNCS 2714), Berlin, ISBN 3-540-40408-2, 2003, p488 - 495.
2. S Muthuraman, C MacLeod, G Maxwell, The development of modular evolutionary networks for quadrupedal locomotion, Proceedings of the 7th IASTED International Conference on Artificial Intelligence and Soft Computing, Banff Canada, 2003, p268 - 273.
3. S Muthuraman, The Evolution of Modular Artificial Neural Networks, PhD thesis, The Robert Gordon University, Aberdeen, Scotland, 2005.
4. Evolution by devolved action: towards the evolution of systems, C MacLeod, D McMinn et al, In appendix B of D McMinn. Using Evolutionary Artificial Neural Networks to design hierarchical animat nervous systems, PhD Thesis, The Robert Gordon University, Aberdeen, UK. 2002.
5. C. MacLeod, G. M. Maxwell, "Minds for Robots," Electronics World, Vol 115, Number 1873, Jan 2009. pp 16 – 19.
6. C. MacLeod, G. M. Maxwell, S. Muthuraman, Incremental Growth in Modular Neural Networks, Engineering Application of Artificial Intelligence, Vol 22, Issue 4/5, 2009. pp 600 – 666, doi:10.1016/j.engappai.2008.11.002.
7. C. MacLeod, Practical Algorithms for Incrmental Growth, The Robert Gordon University, 2010.
---

Practical Algorithms for Incremental Growth
---
"…in the case of any organ, if we know of a long series of gradations in complexity, each good for its possessor, then under changing conditions of life, there is no logical impossibility in the acquirement of any conceivable degree of perfection through natural selection." Charles Darwin in 'The origin of Species.'
"If it could be demonstrated that any complex organ existed, which could not possibly have been formed by numerous, successive, slight modifications, my theory would absolutely break down. But I can find out no such case." Charles Darwin in 'The origin of Species.'
"… the story of gradual intermediate stages is clearly written into the shape of modern animals…" Richard Dawkins in 'The pocket watchmaker.'