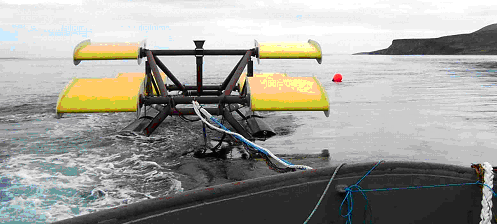 Prototype support structure for seabed mounted tidal current turbines
(The Sea Snail)
Methods currently proposed for securing power generation equipment in a tidal stream are expensive and permanent, with a considerable environmental impact. The full size Snail is in Orkney awaiting the return of favourable weather conditions before launch. A smaller test rig version is being developed for testing in a river environment. The project is funded by:- Scottish Enterprise Proof of Concept, Aberdeen City Council, European Marine Energy Centre (Orkney) and The Robert Gordon University Research Development Initiative fund.
Project Aim
The development, design and construction of a tidal environment support structure, capable of positioning a range of equipment within a vigorous flow regime. The equipment may include, but is not limited to, power generation, gaseous production, desalinated water supplies and subsea surveillance.
Project Objectives
The development of a conceptual design and simple mathematical model to include:
self-securing variable lift surfaces and in-built launch/recovery capabilities;
parametric design in full size virtual space with associated Finite Element and CFD analyses;
static and dynamic structural analyses to identify critical structural behaviour;
incorporation of a simple passive transition mechanism to accommodate a bilinear flow pattern;
design and fabrication of a suitably scaled prototype for short term sea trials;
assessment of likely environmental and social impacts on a near shore marine environment situated within a small island community.
The Concept
Tidal current devices are, or can be, modular, thus permitting small batch installations. By their very nature, tidal streams are difficult locations in which to work and the launch / recovery system is as important as the device itself. To be fully exploitable, any tidal energy device should be suitable for manufacture at any global location possessing basic fabrication and support vessel capabilities.
On a smaller scale, tidal currents (or rivers for that matter) may be exploitable for a localised area or small community provided that the initial costs are affordable
Attaching machinery to the seabed is a difficult task involving drilling and/or piling with the associated disturbance to the benthic flora and fauna. It is expensive, one solution (Seaflow (MCT Ltd)) requiring holes of up to 3m diameter and 6m deep, and, once in place, the turbine support is fixed until it is decommissioned. Another solution (Stingray (EB Ltd)) employs considerable mass to resist the overturning moment induced by the tidal stream. This in turn, requires a large vessel to deploy and recover the tidal generator.
The Sea Snail structure under development at The Robert Gordon University eliminates these concerns. The fundamental operating principle of the Sea Snail is based on the familiar upturned aerofoil found on most racing cars. A number of hydrofoils are mounted on a frame in such a way as to induce a downforce from the stream flow.
As the flow speed increases, so does the overturning moment on the turbine and the down force on the foils. Provided that the ratio of surface areas is such that the down force generated exceeds the overturning moment, then the Sea Snail will remain in position. Similarly, if the combination of self-mass and down force exceeds the horizontal drag force applied, then Sea Snail will remain in place provided that a friction coefficient of at least 0.6 exists at its interface with the seabed.
The Model
The Sea Snail concept was developed in spreadsheet format, to give an indication of drag/lift ratio and therefore likely overturning moments and no-slip conditions.
The hydrofoils use a standard NACA profile suitable for maximising lift in relatively slow flow conditions. The flow around them was modelled using an FEA package, which was also used to model the response of the frame to a range of loading conditions.
All of the software analyses and models indicated that the sea Snail concept would not only be viable, but that it could also be more compact than originally envisaged.
Field Testing
The underlying theory was clearly demonstrated, and accurate records of applied forces taken, by means of a small scale device, (The Winkle), tested in a local watercourse.
The 'Winkle' was equipped with load cells and flow measurement transducers, the data from which gave a close correlation with the Sea Snail calculations.
Design
The Sea Snail was designed using a readily available parametric modelling package. This permits all dimensions, fits and tolerances to be checked prior to full engineering drawing production.
The concept was designed for ease of fabrication using standard steel sections and was made in kit form for ease of transportation. The Sea Snail can be assembled in a few days by a small crew and a 60 tonne crane.
Fabrication
Acknowledgements
The Sea Snail project is financially supported by Scottish Enterprise Proof of Concept Fund, Aberdeen City Council and EMEC (Orkney).
References
Bartle, A. (Editor), Smart snail stays firm underwater, The International Journal of Hydropower & Dams, Vol 10, Issue 4, pp 117. (2003)