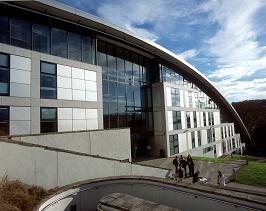 Garthdee Takes Shape
The University appointed Norman Foster and Partners as architects for the first new development on the Garthdee site, the Aberdeen Business School, incorporating a new main library for the campus, opened 1998.
Local Aberdeen architects Halliday Fraser Munro took forward the development of the Faculty of Health and Social Care building, completed in 2002, and Thomson Craig & Donald designed the new University Sports Centre, completed in 2005. They were connected by a 'University Street' with Aberdeen Business School, part of the original Norman Foster concept for the site.
The Health and Social Care building allowed the University to bring together its School of Nursing and Midwifery, the School of Health Sciences, and the School of Applied Social Studies. These Schools, which had previously occupied separate sites across Aberdeen, now benefited from a much greater degree of integration and academic collaboration.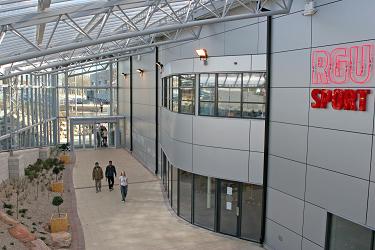 RGU: SPORT provided important facilities for social and leisure pursuits for students and staff as well as providing important teaching and learning space. The Centre is used to support a range of health-related academic provision, particularly in physiotherapy.
The Sports Centre was complemented by the provision on site of a new nursery and a University/community health centre in partnership with Grampian Health Board. Integration with the local community has been a particular aim of the University's developments and members of the public are welcome onto the campus and to make use of the recreational and academic facilities as appropriate.
These developments allowed the University to achieve its objectives of concentrating its activities on two main campuses within a 10 year period and with a budget of around £70m.
Now the first step in the development of the new 2009 Masterplan being lead by Build Design Partnership (BDP), has taken place in the form of a new nursery facility which will facilitate the first phase development of a new 34,000sqm academic building on the Garthdee Campus.
Enabling works to the East of the campus have progressed in order to facilitate the next steps of the first phase development of the new building. This has included the creation of a connecting road through the campus, ground works to form new car parks and piling for the ground source heat pumps.
For further information on the new Nursery Project, please follow the link below: