Masterplan 2009
Masterplan 2009 comprises new built development of approximately 34,000m2 to be constructed in two phases.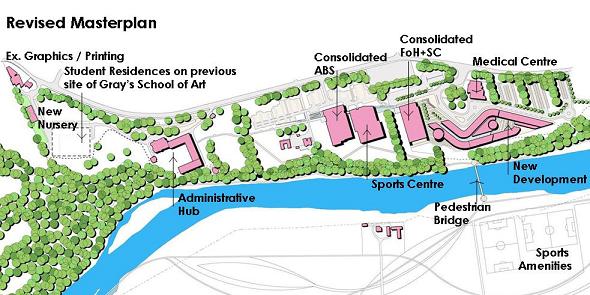 The first phase will consolidate academic activity at Garthdee with 20,000 m2 of new accommodation which together with the 2,000 m2 already provided in the new Central Services Building and some remodelling of the existing academic buildings. This will provide sufficient space for:
School of Engineering
School of Pharmacy and Life Sciences
School of Computing
library provision for the full Garthdee Campus
communal teaching facility
student services
informal learning/social and catering provision for the campus as a whole
Gray's School of Art and the Scott Sutherland School will remain in their current buildings during this phase. The architects will work with both schools to review current space utilisation and demands with a view to developing proposals and recommending investment to ensure that the activities of these two schools are not disadvantaged during this period.
As part of the solution it is proposed to reconfigure the Clarke building as an administrative hub, thereby avoiding the need for additional new build in a first phase of development. The Technical Building has been sold to Robert Gordon's College and will be handed over when vacated by the School of Pharmacy and options for use of the St Andrews building are currently under review.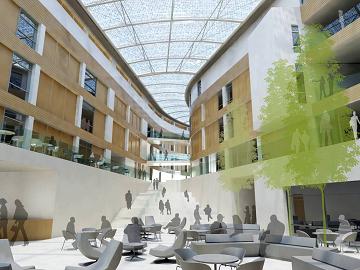 A five year time-frame is envisaged for these developments.
Phase 2
The second phase of development will provide an additional 14,000m2 of accommodation for the remaining schools not already housed in new buildings, in particular:
Gray's School of Art
Scott Sutherland School of Architecture and the Built Environment
In addition, the Scott Sutherland site will be remodelled to accommodate the new administrative and support hub for the University and the site of Gray's School of Art is being considered for the development of new student accommodation on campus.
It is hoped that this second phase might be achieved within a second five year development and refurbishment programme.